Permitting processes can make or break the efficient functioning of a local government and the local economy as a whole. Slow-moving bureaucracy can result in construction delays on local infrastructure projects and deter businesses from pursuing development projects in your community all together.
If you're still using paper-based manual permitting workflows in your local government, there is an accessible, affordable solution to automate and improve your processes to the benefit of your government workers, your budget, and your citizens.
Follow along for everything you need to know about online permitting and licensing software and its benefits for local governments.
What is Permitting Software?
Permitting software for local governments is automated technology that enables the permitting processes of a locality's various departments to be conducted end-to-end in a fully online, cloud-based platform.
Digital permit applications can be accessed and filed directly on your municipal or county website, allowing businesses and residents to apply 24/7, eliminating PDFs, email, phone calls, checks, manual data entry, and other antiquated processes. With modern permitting software for governments, public officials can approve or deny applications via an easy to use digital module.
Permit software is meant to:
Automate workflows to save time and money
Increase permit application completion rates
Shorten time from application to certification

Store permitting records and data in the

government cloud.
What Are the Key Benefits of Using Permit Software in Local Government?
Regardless of your particular government department, there are thousands of documents (and counting…) that fall under your purview.
Here's how permitting software for governments makes it easier to file applications and store official government documents in every municipal department:
1. Simplified Permitting Applications
Licensing and permitting software moves all application processes online. The simple platform is designed to be completely intuitive for the applicant to complete on their own, saving administrative officials hours a day that were previously spent helping constituents file a permit application and increasing application completion rates.
Once an applicant fills in the information and provides related documentation, the permit form will be automatically stored and viewable to relevant officials from the cloud. No more wasting time manually transposing information from forms into a database or excel sheet. Upon review of an application from government officials, the permit can be digitally approved or denied. If an application is denied, digital government communications channels make it easy to let the applicant know what they need to do to get approval.
After utilizing this automated permitting system, Sea Girt, NJ, saw a 66% drop in time spent discussing applications with requesters and other departments, as most applicants could file with the online platform by themselves. Learn more about their digital permitting transformation in the Sea Girt Construction Department Case Study.
2. Gold Standard Workflows for Every Process
GovPilot's software automations across government workflows represent proven gold standards that have been refined and perfected with feedback from real world government users.
Each module comes with clearly documented workflows and support from a government software onboarding specialist so that your government officials and employees know exactly how their specific process works, what each step is, and who is accountable at any given time. This is extremely beneficial for training purposes and government continuity to ensure that services and operations remain efficient, productive, transparent, and free of problems.
Want to learn more? See how government software works.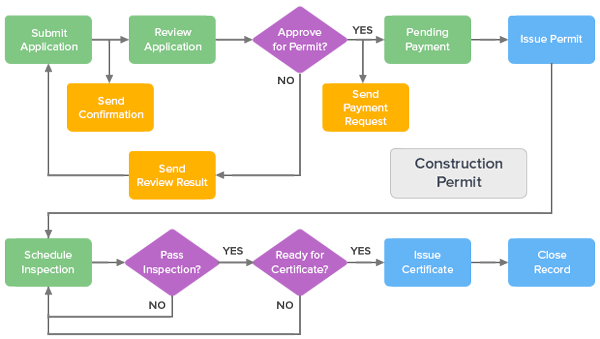 3. Real-Time Permit Tracking + Online Approval / Denial of Applications
A permit tracking application makes it easy for both government officials and applicants to check on the status of a permit or license request. When a government official approves or denies an application, the applicant will receive a status update. If an application is denied, government officials can relay what needs to be done to be approved digitally. Relevant government officials will also be able to check on the status of applications in real time, creating a more efficient workflow.
4. Intergovernmental Communications
Government departments dealing with things like construction, zoning, business registration, etc. need to interact and coordinate on a regular basis. A digital communications platform makes it easy to correspond with relevant officials in other departments, and relevant paperwork pertaining to permits will be automatically accessible to every relevant government official in your county or municipality.
Read more to learn everything you need to know about Improving Government Communications.
5. 24/7 Filing From Anywhere
If you're still using paper forms for permit applications, constituents have no choice but to gather relevant files and drive to the relevant department during office hours. Many citizens will be inconvenienced by this and may even choose not to register for a permit at all.
With permitting software, citizens will be able to file permit applications from anywhere via a phone or laptop, making the process more efficient and increasing application completion rates as a whole.
Consider how automating permitting processes would simplify Parking Permitting and Ticketing in your locality.
6. More Application Completions
Establishing a new business, building new construction, or even improving on existing infrastructure takes time and effort, especially when a lot of paperwork is involved. If your municipality is known for painstakingly slow processes when it comes to filing permits, word will spread and people will choose to register businesses or move to communities with smoother workflows and quicker permitting timelines.
In going digital, local governments across the country have reported higher permit application completion rates as a whole.
Automated permitting systems revolutionize the way your local government handles inefficient processes and streamlines constituent and municipal employee workflows. After switching to zoning software to handle permitting processes in Macon-Bibb County, Georgia, the record for the highest number of zoning permit applications in a single month was shattered and the township recorded the highest revenue from the zoning department since 1957.
You can learn more in the Macon-Bibb Zoning Department Case Study about the advantages of going digital.
7. Economic Growth
If private new construction projects for residential and commercial properties are slow-moving, your community will have to wait to reap the economic benefits of new residents and store-front businesses moving in. If you're performing public infrastructure projects, delays in timelines due to inefficient permitting processes will cost your local government and the taxpayers more money and time to finish the job.
Online permitting saves everyone time and money. Building contractors will be able to get construction projects completed more quickly with efficient, digital approval processes. Further, your local government will save on man hours that can be allocated to making improvements elsewhere.
Here's a resource about How Government Software Boosts Community Development & Citizen Engagement for more information.
8. Cybersecurity & Data-Backup
Using physical servers to store your government data is a disaster waiting to happen. Hackers are regularly hitting local governments with ransomware attacks, and it's much easier for them to break in via an antiquated server than via the cloud.
With cloud-based government management software, your permit documentation and other integral government data is automatically backed up regularly, meaning even if you get hacked, your data will be safe and secure. GovPilot utilizes Microsoft Azure as our cloud provider, ensuring best-in-class cloud services, security, and data backup for our customers.
Learn more about local government cybersecurity:
How Does Permit Software Work Across Departments?
Permitting technology can transform workflows in the construction department to the zoning department and beyond.
Here are the ways automated permit software works in various government departments:
1. Construction Department
Building permit software allows for construction projects to move more quickly in your municipality. From demolition permits to roofing permits to contractor registration, businesses and constituents can file for any type of construction permit via their phone or computer on your government website.
Inspectors can utilize GovPilot's mobile inspection app, GovInspect in order to schedule, conduct, and certify inspections directly in the field using their mobile phone or tablet device. This eliminates the need to return to the office to re-enter data from a clipboard, which in turn enables inspectors to conduct more inspections each day - keeping economic development moving and constituents happy.
2. Planning & Zoning Department
Digital planning and zoning applications on your government website for zoning, subdivision, fencing, driveway improvements, soil movement shed, and temporary storage make it easy for businesses and constituents to build on their land, make improvements to existing infrastructure, or for placement of temporary storage units or dumpsters.
Inspectors will have direct access to all relevant documentation at a given address and can upload their documentation to the cloud as well.
H

ere are permitting modules frequently used with

planning and zoning software

department:
3. Clerk's Departments
Whether someone is applying for a pet license, approval to host a yard sale, or a permit to host a peaceful protest, clerk's department software can streamline administrative processes to store and approve various types of licenses and permits via the cloud.
Local government online permitting software makes interdepartmental communication easier, improving communication across departments and making a more efficient workflow.
Here are popular permitting modules used in the Clerk's department:
4. Economic Development Department
Business registration software makes it simple for local businesses to get registered in your community and apply for relevant permits and licenses pertaining to their industry. Simple online processes will encourage business owners to consider your neighborhood. Digital document storage allows government officials to find relevant documentation for a local business via an intuitive GIS mapping platform.
GovTip: set up automated renewal emails to remind local business owners to re-register on a yearly basis, and directly collect any necessary recurring payments via an integrated credit card processor.
H
ere are permitting modules frequently used in the
Economic Development
department:
5. Parking Department
If there's limited space to park in your community, residents will need parking permits for guaranteed parking in their neighborhood. Allow them to file and pay for parking permits online directly using parking software to make the parking management process simple and store parking records in the cloud for easy access.
If people are parking illegally in your neighborhood, they can also pay their parking tickets online, and can be pointed towards the parking permit application to prevent future tickets.
H
ere are popular permitting modules available with government
parking management software
in your community:
6. Parks and Recreation Department
The parks and rec department of your local government likely handles a variety of permits and license applications for use of the public space. Allowing citizens to apply for permits directly online eliminates the need for your parks and rec department to deal with inefficient paper-based workflows; instead, using parks and rec permitting software allows municipal employees to review and approve applications in minutes.
H
ere are some useful permitting modules for the parks & rec department in your community:
And learn more about forging a Modern Parks & Recreation Strategy.
7. Health Department
It is vital that your community has an efficient health department that keeps your community healthy and safe. Providing citizens with the option to utilize online permit applications through the health department will streamline operations and cut out confusing, paper-based workflows.
GovPilot's health department software is designed to provide your community with cloud-based health inspection and permitting processes that improve the productivity of your local government.
Check out
permitting modules to improve workflows in your community's health
department:
8. Engineering Department
Cloud-based digital engineering department software empowers local governments to review, approve, and track projects from start to finish without getting slowed down by outdated paper-based workflows. Allow your municipal employees to save time and resources when they utilize GovPilot's engineering department software.
H
ere are permitting modules frequently used in the Engineering
department:
Learn more about Modern Local Government Engineering Workflows.
Municipal Permitting Software Can Transform Your Community
Online permitting solutions make everyone's lives easier. Constituents and businesses will be happy to have the luxury to file for permits or licenses straight from their laptop or phone. Your local government employees will enjoy automation of the most tedious permitting processes like helping constituents fill out forms and physically filing applications to save limited government time and resources. The local economy will thrive as construction projects get completed more quickly. That means you'll be re-elected!
To learn more about how permitting software can digitally transform your municipality or county government, book a free demo.
Permitting FAQs
How Does Permit Software Work?
When you switch to a digital permitting solution like GovPilot, online permits and licensing applications will be made accessible from your government website. Constituents and businesses can go to your site to upload relevant documents and submit an application 24/7.
Completed applications are automatically passed to all relevant government officials for review via a carefully designed workflow. After relevant officials review the documentation, they can approve or deny it straight from their computer. Constituents will be notified, and if the application is denied, they'll get an explanation of what they'll need to include in their resubmission to get approved.
Why Use Online Permitting Solutions vs. Traditional Paper Filing?
Here are a few of the many reasons you should go digital for filing permits over paper workflows:
Convenience for constituents and businesses: submit an application anywhere, anytime. Physical applications need to be submitted within office hours in person.
Automation of government processes: government officials won't have to walk constituents through how to file, as the online module is designed to be simple and straightforward. They also won't need to file and pass along the application to relevant officials, as it's automatically accessible via the cloud to all relevant government officials.
What are the benefits of automatic government data storage and back-up?
Using paper for government records is a pain when it comes to tracking relevant documentation down. And if something like a fire or a natural disaster strikes, your paper files could be destroyed forever. With cloud-based government software, everything is backed up, meaning you won't have to worry about the permanent loss of government data even if your local government experiences a cyber security threat.
Learn more about the Benefits of Going Paperless in Government.
Read on:
Sources: