Local governments have been challenged in unprecedented ways since March 2020. But even before COVID-19 forced governments, businesses, and citizens to drastically alter their daily operations and lives, a transformation in services and operations was underway for municipalities and counties. In 2020, facing increased demand for better services from constituents who have come to expect convenient digital services in their everyday lives from services like Amazon, Uber, AirBnB, and others, local governments prioritized citizen experience and e-services, second only behind cybersecurity, according to Government Technology Magazine.
Third on the list - presciently - was continuity of operations.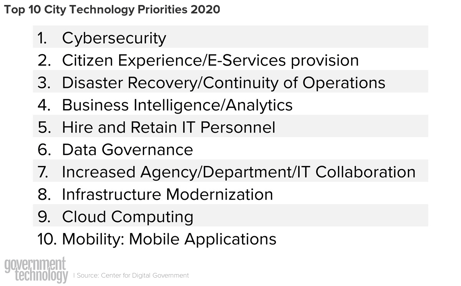 Given the significant challenges that local governments now face in terms of managing public health priorities while delivering services, and ensuring continued operations, all amid an economic crisis, there are a few ways that local governments can address these challenges while enhancing services for decades to come. GovPilot has worked with local governments of all population sizes to streamline their operations and ensure service delivery through the pandemic (see case studies).
It should be noted that digital transformation is not just for large cities. GovPilot's pricing is affordable for local governments of all sizes, because we know that the delivery of municipal services through digital processes will not only improve municipalities and counties in the short-term, but well into the future.
If you are considering digital transformation for your local government, keep the following suggestions in mind.
1. Prioritize Accessibility - Of course during the pandemic public health and safety is critical. For many local governments, services once provided only through in-person interaction at city hall or a government building had to be put on hold. Similarly, city employees had to quickly shift to remote work which proved to be a challenge for many governments.
By prioritizing accessibility through digitization of processes and services, as well as remote work, county and city governments can ensure continued, safe operations during any crisis while providing convenient service to constituents.
For example, the Village of Manorhaven, New York receives more than 700 Freedom of Information Act (FOIA) requests per year. City officials and the town's clerk sought to make the paper-based application, processing, and response process much more efficient and worked with GovPilot to digitize their FOIA request, processing, delivery, and filing processes. The digitization of the FOIA process, enabled the village to process requests remotely while the office was closed during COVID, and the staff now receives 50% of their FOIA requests digitally, directly through the website - a significant improvement of municipal service delivery.
Accessibility through digital processes saves employees significant amounts of time, freeing them up to take on additional tasks, which in turn translates into lower costs. Keep in mind that accessibility can come in many forms - from online digital payments that allow constituents to pay service fees instantly via credit or debit cards, to emergency business loan applications, and permit applications - like sidewalk dining - that can be filed digitally and processed quickly to keep local businesses open.
Accessibility is also a form of resilience. By saving records and documents digitally in the cloud rather than on paper or an on-site server ensures business and operational continuity.
Ultimately, accessibility is critical for increased efficiency, productivity and cost savings, while providing constituents with the convenience they have come to expect.
See examples of how local governments have responded to challenges with digitization.
2. Embrace Visibility & Transparency - Another way to improve constituent services is to make public information not just accessible but visible and transparent. When the public is well-informed and can easily find the information they need to make decisions, the burden on government employees is reduced. Local authorities and government staff receive fewer phone calls and fewer walk-ins that are a distraction from other important tasks. When data and information is presented clearly and transparently on a government's website - and updated when necessary - the constituent experience is improved, and efficient services are delivered.
A modern, interactive GIS map, like the one provided by GovPilot and accessible through a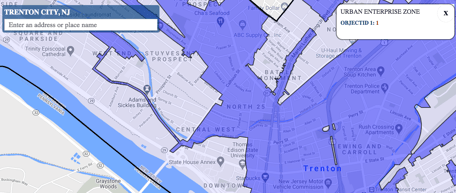 government's website is capable of displaying critical public data and information - from public health information like COVID infection rates, to critical assets like hospitals, fire stations, and polling stations. Other data layers on a GIS map can also serve to inform the public of important information like voting districts, flood zones, economic development zones, and even property ownership records and property tax details.
In December, GovPilot launched an online real estate auction service to enable municipalities to auction off properties in order to revitalize neighborhoods and generate much needed revenue. The service is connected to GovPilot's GIS map and Automated Valuation model so that bidders can see similar properties within an adjustable radius. Utilizing this tool, 284 unique bidders submitted a total of 1,534 bids for properties in Trenton, NJ being auctioned, generating $4.15 million in new revenue for the capital city in just one day. This is just another example of how visibility and transparency can help constituents make informed decisions based on data provided by their local government.
3. Crowdsource Concerns - Constituents expect convenience. As taxpayers and property owners they also expect non-emergency problems like potholes, broken streetlights, and code violations to be resolved quickly. No one wants to call city hall and wait on hold to request a pothole on their street be filled. Today the overwhelming majority of us have smartphones which we have seen recently transform people into citizen journalists.
City leaders can encourage their citizens to actively participate in addressing community needs by enabling them to look for, and submit non-emergency concerns through an app installed on their mobile device.
GovPilot's GovAlert app and corresponding Report-a-Concern, accessed through a municipality's website, enables residents to quickly and easily report issues with their government. Submissions are geotagged and automatically routed to the appropriate municipal department for resolution, and all parties receive updates on the status of the concern and repairs until it is resolved.
By crowdsourcing concerns and automatically routing them to the appropriate department, municipalities can prioritize and quickly resolve constituent concerns, eliminating the need for time consuming and aggravating phone calls.
Conclusion - Taken together, accessibility, visibility, and crowdsourcing enable local governments to provide the convenient, responsive services that constituents have come to expect.
By committing to move on from paper based processes and obsolete single-use software, and instead investing in a unified, cloud-based platform, local officials will vastly improve county and city services, operations, and their budgets not only today, but for decades to come.
Are you interested in learning more about how digital services can improve your government? Book a free 15-minute consultation - we look forward to learning more about your goals.