In 1975, the nation was on the heels of the political unrest surrounding the Vietnam War and President Nixon's resignation amid the Watergate scandal. Government at all levels was seeking a way to reconnect with citizens and regain their trust. Enter Rutgers University's National Center for Public Performance (NCPP)—a research and public service organization dedicated to improving citizen-driven government performance and public management.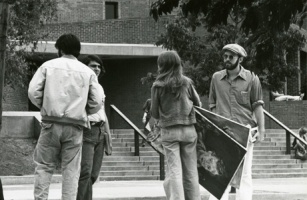 Students outside of Rutgers' Paul Robeson Library in the 1970s.
In the 42 years since its establishment, the NCPP has maintained its mission and updated its methods. In addition to offering performance measurement-related consulting services, scholarly articles and courses, the NCPP has built a Public Performance Measurement and Reporting Network (PPMRN). The web-based community connects government officials with citizens, public and nonprofit managers as well as academics. Members work together to measure, report on and, ultimately, improve public sector and nonprofit performance.
At the helm of it all is Andrew Ballard, an affable Midwesterner with whom the GovPilot team has collaborated on a number of projects. Mr. Ballard took time from organizing NCPP's upcoming conference to sit and chat about his past, pet projects and predictions for the future of public performance management.
GP: How did you become Managing Director of Rutgers NCPP?
AB: I began pursuing my PhD at Rutgers University in 2014 and for additional financial support, I began working part-time for the NCPP on some small projects. I found that I really enjoyed working with area governments with their performance and data utilization projects and began teaching the performance management professional development certificate. In December 2014, the previous director stepped down, as he graduated from the PhD program, and I was asked to take over.
GP: What is your favorite part of the job?
AB: My favorite part of the job is getting to travel around and interact with all the different public and nonprofit organizations we partner with for trainings, research, consulting, etc... It's really nice to be able to see the connection between the research that we do at Rutgers University and the issues actual organizations face in the real world.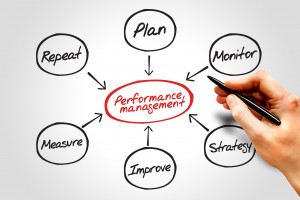 GP: That's great! Tell readers about the most dramatic performance research/measurement-enacted change you've seen.
AB: I've been working with the New Jersey Department of Health for several years and have been involved with a number of different performance-oriented programs in the agency. Two years ago, I taught an agency-wide training course on performance and since then have seen the department become accredited by the Public Health Accreditation Board, begin quarterly performance meetings that include all units within the agency, revise a major data collection program and begin disseminating performance information throughout the state. The change that has taken place in just two years has been pretty spectacular.
GP: That must be so rewarding. Speaking of progress, next week marks NCPP's 10th annual conference. How has the world of performance research/management changed over the years?
AB: For us specifically, the change in nomenclature has reflected the change in research/practice focuses. When the center first started, the common term used was "productivity." This can often be a restrictive term as it lends itself to focuses on the number of outputs per input. Although the idea of being highly productive is good, it can lack the nuance that other quality improvement strategies have.
After productivity came "performance measurement." Certainly a step forward, as it encouraged creating specific measures for each program and embraced complexity a little more than the productivity push did. Still, organizations (and researchers) had trouble getting past the trap of measuring for the sake of measuring. Public organizations are very good at collecting data, but less so at actually using it.
Join GovPilot at NCPP's conference: 9/28-9/29 at Suffolk University.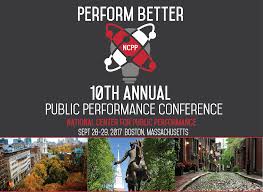 We now focus on what is called "performance management." It may sound like semantics, but the change has been quite visible. Instead of just trying to develop the largest array of data points you can, performance management has encouraged organizations to focus on both good data and integrating that information into the organizational decision-making process. This has required us to consider things like stakeholder priorities, vested interests, cultural barriers, etc... All the things that created the trap of measurement for the sake of measurement have now been incorporated into our research paradigm. I think this is a very healthy evolution, as organizations are complex and not everything can be measured in a straightforward manner. Embracing the barriers to data-driven-decisions has been good for the study, and indeed, the practice of performance in government.
GP: What is the future of performance/research measurement?
AB: I think the biggest challenge for both the research and practice of performance is how to scale the ideas developed in large cities down to the small to mid-sized jurisdictions. For a large city like Baltimore, it's relatively easier to establish a performance system as there is likely some excess capacity within the organization to collect, analyze and present performance data. However, for smaller towns that are often the most resource scarce, it is difficult to develop a robust performance system without taking productive time away from the actual delivery of services. For example, I've visited countless smaller towns that want to have a performance system but are relying on department heads or administrative assistants to collect and analyze data. These individuals have neither the time nor the experience to really excel at this, as they are already excelling at their actual jobs. It can create a sort of "performance paradox." The intent of developing a performance system is to do more with less. However, when you tack on the responsibilities of the system onto people with no excess capacity, you can end-up doing less with the same. I think figuring-this-problem-out is the big issue we will face in the years to come. If we don't, I think performance might be seen as just something for big cities.
GovPilot would like to thank Mr. Ballard for his time.
Catch National Account Executive, Kent Hartsfield, at Rutgers' 10th Annual NCPP conference, taking place September 28th and 29th at the Suffolk University Institute for Public Service in Boston, Massachusetts. Kent will be demonstrating GovPilot's unique performance management and reporting capabilities as well as raffling-off a FitBit. Stop by GovPilot's booth and say, "hello!"