Since the beginning of the COVID-19 pandemic, rapid innovation has been occurring across industries. The public sector is no exception. For the first time in years (and in some cases, decades), many local towns and cities across the country are replacing their outdated single-use server based systems, fillable PDFs, and paper-based processes with digital government technology. The CARES Act and recent American Rescue Plan have served to speed the digital transformation of local governments.
As the shift toward digitized government gathers momentum, there are approximately 40,000 local governments across the U.S. that are still using antiquated technology and paper-based processes to manage critical workflows like permitting, resident requests, tax assessment, and inspections. While these inefficient, often paper-based workflows have always been frustrating for government workers and constituents alike, social distancing restrictions as a result of the pandemic have made things even more complicated.
Thankfully, governments of all shapes and sizes can leverage government management software to innovate and improve on workflows across the public service framework. With years of customer feedback, modern government IT infrastructure such as GovPilot's platform is designed to be intuitive for government workers to use and to provide the digital convenience that constituents have come to expect in their every day lives.
In fact GovPilot has worked directly with local government employees and leaders across the country to develop end-to-end workflows for more than 120 critical local government services and operations. With input and feedback from real-world users, GovPilot's digital processes have been refined and proven to be effective for any local government - from a small town to a large county. GovPilot's gold standard processes are meticulously documented and represent best practices for digital workflows that deliver efficient, transparent, and effective local government services. This documentation - essentially a blueprint - is critical for the purposes of implementation and training now and well into the future for those governments that adopt a digital transformation strategy.
Learn more about how local governments can quickly, confidently, and effectively update their IT infrastructure and provide touchless constituent services without starting from scratch or reinventing the wheel. GovPilot's gold standard workflows built with input from real-world users make it possible.
How Can Local Governments Innovate to Improve Established Infrastructure?
There's no way around it. A lot of the time, innovating is hard. People often dislike change, and changing processes around the workplace can be anxiety-inducing for many. Fortunately, public sector innovation doesn't need to be complicated.
Whether your local government uses paper forms, dated filing systems, fillable PDFs, or an array of complicated single-use software platforms, GovPilot government management software strategically provides new users with proven best practices pertaining to more than 120 government functions. That means you'll be able to seamlessly integrate all of the departments of your local government onto one cloud-based platform that will provide proven-effective automated workflows that will work well and improve results from the outset.
In Jackson, NJ, government time clerks said it took just a single day for them to feel comfortable using administrative government software. Being able to quickly understand how to use online form modules has saved the Jackson government 40+ hours a month in saved time on permitting and zoning alone, which will only become more important as states continue to re-open.
How Do Digital Government Workflows Work?
Workflow automation software is set-up to run smoothly so that government IT infrastructure can quickly lead to improvements in local government innovation across departments via documented and reliable processes.
Workflows are designed to eliminate manual, inefficient tasks such as re-entering data, scanning, faxing, emailing, and calling. With effective workflows implemented, you can expect to eliminate communications silos between departments and know that your constituents will be kept informed at all stages of their application process or form submission.
Well-documented workflows such as those offered by GovPilot provide a roadmap that all current employees can use to quickly learn the steps in each process, and individual responsibilities along the way. By standardizing and documenting each processes' workflow, local government officials can be sure that government services will not skip a beat when staff turns over via retirements, promotions, and new hires.
You might still be wondering, which government workflows can automated management software support?
A successful digital transformation with GovPilot can accommodate for 120+ functions across a municipal or county government.
Here are a few popular templated workflow examples that can be helpful for public sector innovation.
Workflow for Filing Permits, Licenses, and other Requests
Be it construction permits, zoning permits, FOIA/OPRA requests, or even a marriage license, approving constituents' permits and licenses in a timely manner is one of the most important aspects of local governance across the United States.
With COVID-19 forcing people to work remotely (including government employees), municipalities without digitized forms were stuck dealing with outdated filing systems at a time where efficiency was more crucial than ever before. And, as state governments continue to re-open, business, construction, and zoning permits will need to be filed quickly and accurately to combat both economic distress on communities and the demand placed on local governments.
Here are the step-by-step workflows via government management software that can speed up the permit filing process:
Instruct constituents to file permits directly off of your government website (which has the management software built in)
They will select the needed permit / license on the site and fill in their information
The submitted file will be uploaded to the cloud and automatically distributed to the relevant department(s)
Upon approval / denial from the government officials, constituents will be automatically notified by the software on the status of their permit.
Workflow for Complaint Management or "Report-a-Concern"
Encouraging constituents to support their community through civic engagement and for governments to demonstrate their effectiveness has never been more needed than right now. Constituents are not only working remotely and spending more time in the neighborhood than ever before, but are untrustworthy of the government as a result of the restrictions in place as a result of COVID-19 and quality of services available.
Fortunately, complaint management software available both on a government's website and via a mobile app is a simple and effective way for constituents to become the eyes and ears of a community, and help local government officials address non-emergency concerns such as potholes, overgrowth, or roadkill. Below is a section of the detailed documentation that GovPilot provides to local governments so that their employees can understand and maintain best practices within the full workflow from the time they receive a complaint, until it is resolved.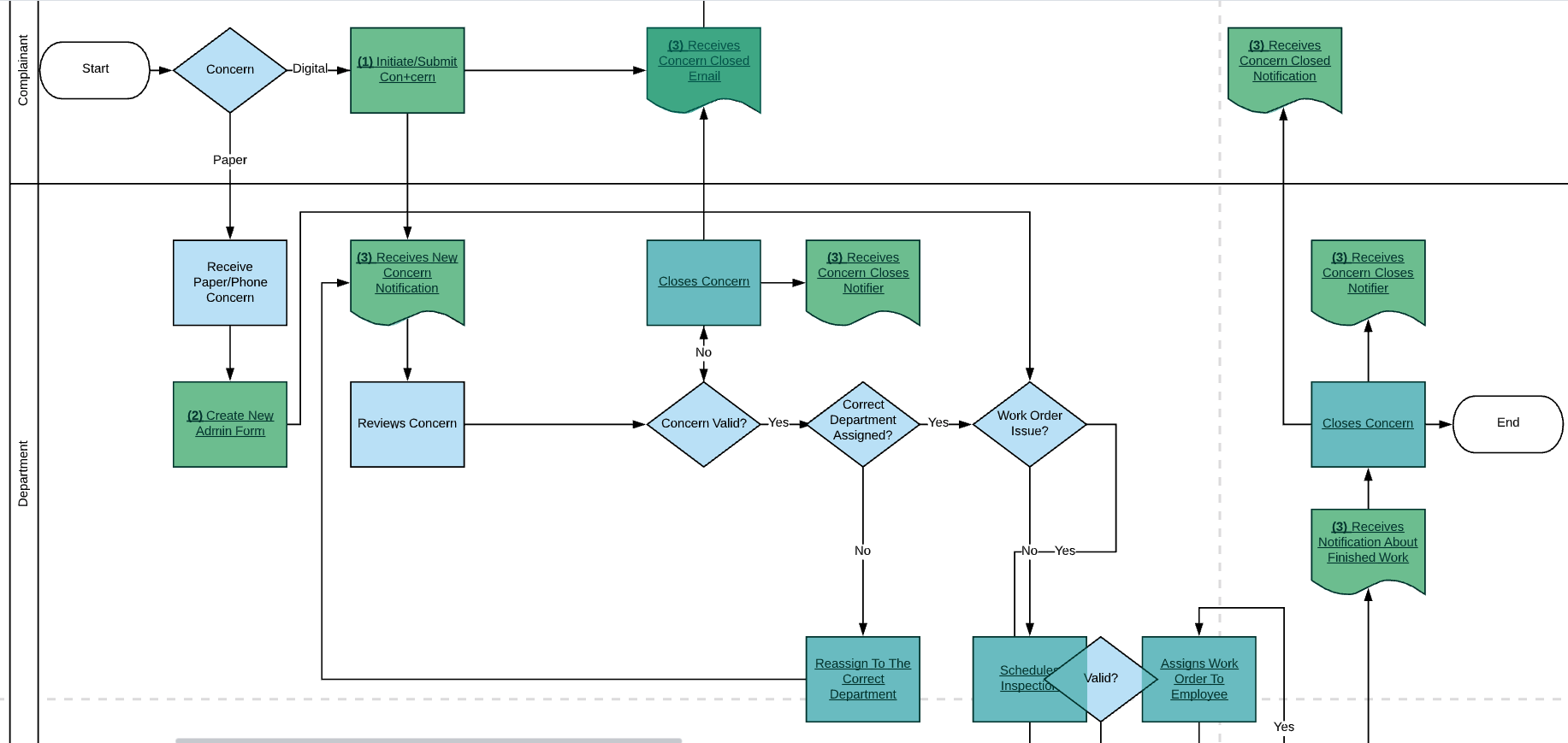 Here are simplified steps to implement Report-a-Concern software:
Set-up the

report-a-concern software

on your government website and the mobile application for cell phones.
Have constituents voice non-emergency issues via the website or phone app.
The submitted file will be uploaded to the cloud and automatically distributed to the relevant department(s).
The submission is time stamped and employees from the relevant department - i.e the DPW if the complaint is a pothole - verify the submission and assign staff to address the problem, in this case a pothole.
The issue is stored in the cloud and added to a Geographic Information System (

GIS

) map so that constituents can check on the exact location on the map for real-time updates as to how the government is addressing their complaints.
Data on complaints will be accessible for government workers to access in order to better understand trends that can be useful in making future decisions (like spending the government stimulus funds).
Digital Construction Permit Application Workflows
Construction permitting is another local government staple that has traditionally been paper intensive and slow. With detailed documentation to include best practice workflow process and end-to-end digital forms, processing, and permitting local governments can speed economic development and growth. As you can see the workflow documentation is detailed and specific, providing GovPilot customers with a clear roadmap and best practices when implementing their construction permit application process.
Detailed documentation serves as a guide for employees at all levels so they can understand a process from start to finish and can easily train new colleagues.
FOIA & OPRA Request Workflows
Freedom of Information Act or Open Public Records Act requests place a significant demand on local governments who often have to respond to hundreds of requests per month. For this reason it is critical that the digital process for this workflow be proven effective and well-documented so that government staff can be well trained. Below is an example of the detailed documentation that all GovPilot customers receive with their FOIA or OPRA module.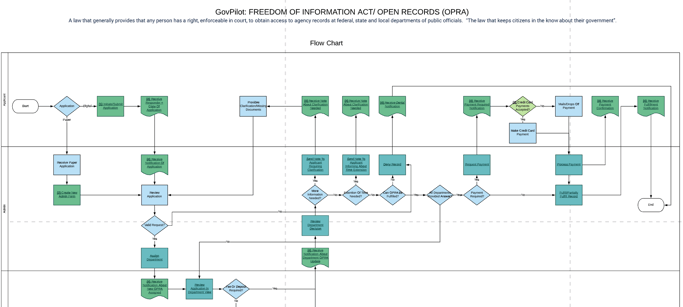 How to Get Government Departments On-Board with Innovation?
With GovPilot's gold standard workflows and proven track-record, mayors, business administrators, and other government leaders eager to quickly improve efficiency, productivity, and transparency should feel confident in implementing GovPilot's digital workflows as opposed to starting from scratch.
The results often speak for themselves. In Millsboro, Delaware, clerk officials would often spend hours at a time searching for individual residential building permits from a database with thousands of disorganized excel spreadsheets. Now, with GovPilot they report a 97% time savings with their new easy-to-navigate cloud-based permitting modules. In Sea Girt, New Jersey, inspectors reported a 50% decrease in the amount of time it takes to perform inspections.
With proven best practices, and detailed documentation accompanying every digital module that GovPilot customers deploy, officials can be confident that their newly implemented digital services will work as intended, and they can be comfortable knowing that employees can be trained to understand each step and responsibility within each workflow. These gold standard processes paired with documentation means that government workers can learn and feel comfortable using the GovPilot platform within a few days or even hours. With modern government digital technology, they'll wield the power to get work done quickly and efficiently, improving the constituent experience in the process.
Get a free consultation to learn how to make your government more responsive to citizen concerns.
Gold-Standard Workflow Documentation FAQs
1. How has GovPilot developed best practices for 120+ local government processes?
The GovPilot team has partnered with and gathered input and feedback from hundreds of local government officials and employees across all of the departments, services, and operations critical to local governments. We have spent years incorporating this feedback and work to continuously improve and refine the modules we make available to our local government customers. These best practices have been proven to not only be effective, but also highly efficient, saving local government employees hours per day so that they can focus on other high level initiatives. The workflow for each module or process is meticulously documented and provided to our customers so that they can onboard current employees and train new ones, ensuring that best practices continue to be implemented for years to come.
2. What are the benefits of having a well-documented workflow for each digital process?
Having a well-documented workflow for each digital process is critical. These are the blueprints for how a specific process should work from start to finish - from the submission of a digital form from a resident all the way through the processing, tracking, and resolution of that form by government employees. Having detailed documentation of process workflows allows government employees to understand each step in a given process. Who is responsible at each step, what comes next, and how to resolve any problems. Critically, these roadmaps ensure that best practices continue to be followed year after year as staff and administrations turn over, ensuring that operations and constituent services remain efficient.
3. Why should local governments consider digital transformation?
Local governments of all sizes, from small towns to large counties should absolutely consider digital transformation for a number of reasons. First, digital processes can drastically improve local government services and operations by making them more efficient and transparent. Employees become more productive and responsive when they are alleviated of mundane manual tasks like transposing data into spreadsheets, or searching for physical documents in file cabinets every day.
Moreover, constituents expect convenience. They are already shopping, booking travel, ordering food, and banking online. At this point, they expect to be able to interact with their local government online. From submitting construction permits to registering a new business, to reporting a pothole on their street, online digital processes make work and life easier for everyone, and your municipality or county a more desirable place to live.
Lastly, digital transformation is essential for resilience and business continuity of local government. As we saw during the COVID-19 pandemic, local government operations and services need to be flexible. Employees must be able to work from anywhere at any time in order to deliver services. Constituents must be able to easily apply for services from the safety of their home instead of having to wait in line at city hall, regardless of whether it is a so-called "blue sky day" or in the midst of an emergency.
4. How can local governments utilize Federal relief funding from the American Rescue Plan to upgrade their IT infrastructure?
The American Rescue Plan included $350 billion in Federal relief funding for state governments and local municipalities – a massive $200 billion uptick from the amount provided from the CARES Act. Additionally, the restrictions on how the money can be used at the state and local level have lowered substantially in comparison to the previous stimulus package.
Additional money for local and state municipalities means that governments can improve their technology and IT infrastructure with
modern cloud technology
. Investing in technology will allow state and local governments to improve
civic engagement
, collect valuable data, work remotely, and get work done more efficiently for years to come.