The last year has seen shocking abuses of power in industries from Hollywood to Silicon Valley exposed. Abuse of power may play a role in current events, but it is by no means a contemporary problem. Indeed, local government offers a fascinating historical example. This is the story of notorious New York political machine, Tammany Hall.
A Benevolent Society
The tale of Tammany Hall begins in Manhattan on May 12, 1789, when the organization formed as the New York chapter of the Tammany Society—a club for "pure Americans" that appropriated Native American words and customs, going so far as to call its meeting halls "wigwams".Despite Tammany Hall's tone deaf attempts to emulate Native American culture, it barred Native Americans and everyone who was not a white, American-born male from membership.
As the years went on, Tammany Hall moved away from the Tammany Society and grew increasingly political, backing Democratic candidates in elections at all levels of government. This foray into politics raised Tammany Hall's profile. In response to mounting pressure, the organization began to welcome Irish immigrants in the 1820s.
The mid-1840s to early 1850s saw this population swell considerably. The potato famine caused hundreds of thousands to flee Ireland for New York City's storied shoreline, only to languish in crowded tenement houses and suffer through other hardships of poverty once they arrived.Tammany Hall leaders saw the influx of Irish immigrants as an opportunity to garner mass support for Tammany causes. The organization helped Irish immigrants obtain employment, shelter and citizenship in an effort to earn their loyalty and involve them in the political process.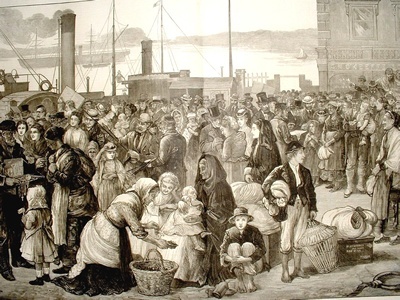 Leaders saw the influx of Irish immigrants as an opportunity to garner mass support for Tammany causes.
Rise of the Machine
The strategy worked. By 1855, Irish immigrants comprised 34% of New York City's voter population and many rose through the ranks at Tammany Hall. The political powerhouse had embraced, enfranchised and employed a marginalized group, but accounts of the organization's commendable acts competed for space with accusations of corruption in New York City newspapers. Speculation gave way to synonymy during Tammany's Tweed era.
Born to a third-generation Scots-Irish chairmaker on New York City's Lower East Side, William "Boss" Tweed, entered the world of New York politics at age 28, as an Alderman.Running on the Democratic ticket, Tweed was elected to Congress in 1852. Despite an unremarkable term, Tweed's political influence in New York City continued to grow.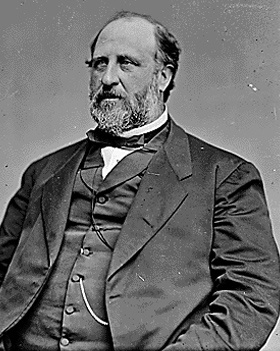 William "Boss" Tweed came on the New York City political scene in the early 1850s, kick starting a quick ascent to power.
In 1856, Tweed was elected to the Board of Supervisors, and by 1860 he was heading Tammany Hall's general committee. Despite having no legal training, Tweed opened a law firm that same year and collected thousands of dollars in extortion payments for illegal services, or as he called them, "legal fees".
In 1868, Tweed became a state senator as well as the grand sachem of Tammany Hall. Tweed rigged elections, committed voter fraud and relied on the intimidation tactics of street gangs, like the Dead Rabbits, to ensure that his cronies were elected mayor, governor and speaker of the assembly. Tweed took things further in 1870, when he pushed to create a board of audit, effectively controlling the city treasury. He and his cronies, the Tweed Ring, as they came to be known, set up a variety of schemes, such as claiming fraudulent leases and ordering unnecessary repairs to launder hundreds of thousands of dollars of city funds.
Powering Down
New Yorkers aren't the type to accept dishonesty. It was only a matter of time before whispers of Tweed's corrupt practices turned to calls for his removal from power. The inciting incident came in 1871, when Irish Catholic immigrants clashed with Irish Protstant immigrants during what came to be known as the Orange Riots, leaving over 60 dead. Tammany Hall's predominantly Irish Catholic leaders came under heavy criticism from those who believed they did not do enough to keep the riots from escalating.
The Orange Riots were followed by a New York Times expose of the large scale of corruption among the city's political officials. In a case for the power of visualization, Harper's Weekly political cartoonist, Thomas Nast's, illustrations also helped to solidify the public's rejection of Tweed's Tammany Hall.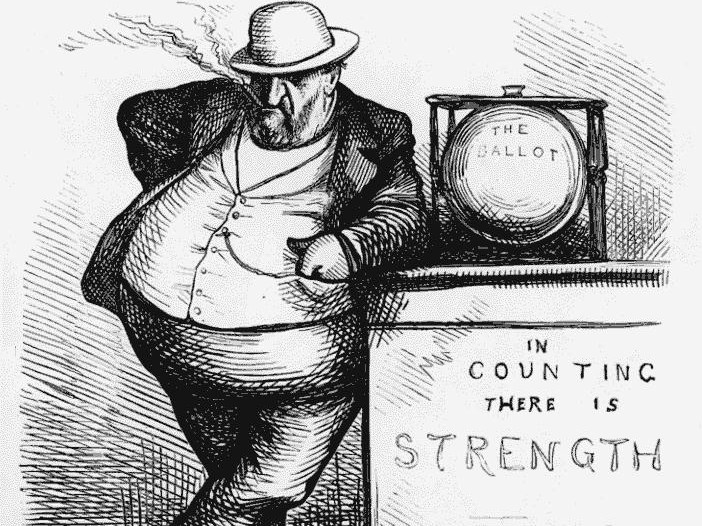 Nast cartoon lampooning Tweed for rigging elections.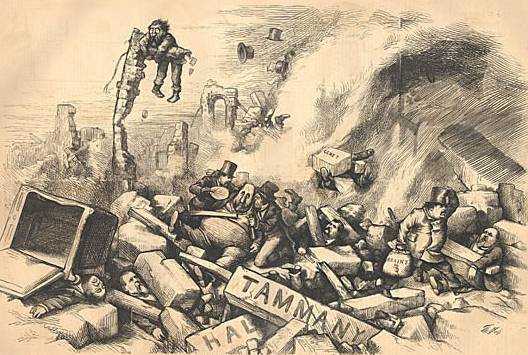 The Orange Riots of 1871 are largely considered the beginning of the end for Tammany Hall.
This opened the door for lawyer, Samuel J. Tildon's, reform movement, which focused on ousting Tweed Ring members from political positions. Tweed was arrested, and, after two trials, found guilty of larceny and forgery in 1873. He escaped in 1865 and made his way to Cuba and Spain, before being extradited and dying in a New York City jail in 1878.
Though Tammany Hall underwent several revamps and revivals, the organization never fully recovered from Tweed's tenure. It lingered well into the 20th century, before closing its doors for good in 1967.
Over fifty years after its dissolution, Tammany Hall's best intentions and most corrupt practices continue to captivate and serve as a cautionary tale about the dangers of unchecked power.
Time travel technology may not yet be perfected, but GovPilot's "Flashback Friday" series is the next best thing. Check the box below to subscribe to the blog and never miss a history lesson.