From the decisions they make to how effectively they perform their duties,code enforcement officers have a highly visible role in the community.Most noticeably, they control the battle of the blight.
Methods vary, but Code Enforcement's approach to blight management can essentially be broken into two categories: reactive and proactive. GovPilot offers tools and capabilities to support both.
Reactive
Reactive code enforcement is comprised of agents responding to everyday complaints, such as, "Mr. Bonner's grass is overgrown", "Mr. Saafan has had the same car parked in front of his house for 2 months", "My neighbor's fence is falling down", etc...
Although Code Enforcement agents may feel as if they couldn't possibly receive more phone calls, they may be missing the full picture of blight in their community. Indeed, they may only be aware of complaints reported by citizens who have the time and temperament to place a phone call.
Though concerns are of the non-emergency variety and penalties are relatively light, traditional reporting methods lack anonymity, which makes some residents hesitant to contact authorities. Providing anonymous, ever-accessible, cross-device concern reporting tools, like GovPilot's mobile app, GovAlert , and digital Report a Concern form shows citizens that Code Enforcement values their input, not their identity, and that the department wants to engage in a way that is convenient for them.
Proactive
If and when citizens aren't driving Code Enforcement's actions, proactive methods have to take over.
Proactive code enforcement refers to officers actively observing the community. It involves agents driving around, taking notes, snapping photos and issuing warnings and citations for overgrown grass, abandoned vehicles, dilapidated structures and other blight-related violations. Proactive code enforcement actions can be a little trickier to perform than reactive code enforcement actions, for several reasons.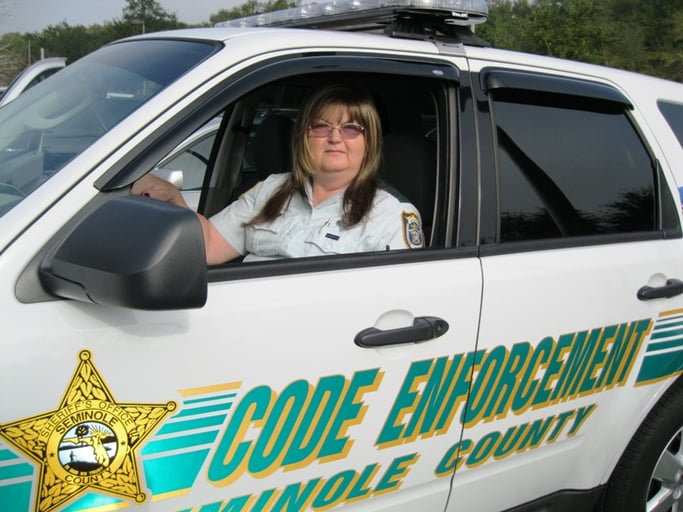 Proactive code enforcement refers to officers driving around, taking notes, snapping photos and issuing warnings and citations.
For starters, a single blighted property might have several different issues. A code enforcement officer must balance sticking by the letter of the local ordinance as it pertains to compliance dates and giving the homeowner a reasonable amount of time to resolve all issues.Common sense also comes into play. For example, there may be several overgrown lawns in town, but it has been raining for several days. Does the officer go by the book or practice restraint and decide to drive through in a few days when the weather improves?
Both informal warnings and official warning notices are followed by reinspections within a few days to a week, depending on the infraction. If they write 10 warnings each day for 2 weeks straight with 10 days of compliance, the officer will quickly have over 100 issues to keep track of. Not to mention the cases that might warrant a 2nd warning or further investigation.
That's where the office work comes-in. An agent issuing warnings and violations may spend more than half of the day completing and sending the appropriate paperwork. Keep in mind that warnings and violations trigger citizen inquiries (very few of which are pleasantly phrased). Then comes the occasional court or arbitration hearing(s) that need to be prepared for and attended.
All of this is dependent on a code enforcement officer having the correct homeowner to contact. This information can be very difficult to obtain, especially if the home has been foreclosed upon. Sometimes it takes several phone calls to the Assessor's office or some other resource to find the correct address and current owner. Many warning notices are presented as "door hangers". If the house is unoccupied, the blight may go for several weeks before a bank or out-of-town homeowner receives the warning.
GovPilot not only harnesses the power of crowdsourcing to catalyse reactive code enforcement actions. It leverages cutting-edge workflow automation and cloud storage technology to eliminate redundant data entry and other inconveniences associated with Code Enforcement's paper-based processes.
GovPilot's server is home to detailed records on each property in the city, including last known homeowner and bank responsible. Property data is accessible to all code enforcement agents on the case at all hours, from any device for effective collaboration. Cloud-powered collaboration is enhanced through automated workflows that feature custom alert, task assignment and case scheduling capabilities.
Granting code enforcement officers and the constituents they serve the tools to help in their day-to-day is a great first step toward ending blight and generally improving the community.
Click here to learn more about how GovPilot can do just that.