Local government operations are becoming a more relevant conversation topic in everyday life due to the relatively recent recognition in the media of the importance of local governance through television shows and movies.
Though you may not feel that you have much in common with the Hollywood actors and actresses in popular media, you may relate to some of the characters they've portrayed. Whether you're a politician or a police officer, you've likely seen your role reflected on the screen. With its many facets, functions and high level of influence, it's easy to see why film and television writers regularly mine the world of local government for story inspiration.
GovPilot has compiled a list of movies and television shows set in your industry that might even teach you a tip or two about local government. Television shows and movies about the government are usually more intense than you might expect! Using GovPilot's government software solution to improve government workflows and constituent services will save your locality time and resources, allowing more time for your government officials to catch-up on some award winning television shows and movies.
Read on for our ultimate list of all the most iconic television shows and movies surrounding local government:
TV Shows About Government
The following government tv shows are available to stream online, and known as some of the most popular series to grace our screens:
1. Show Me a Hero (2015)
Based on a true story, HBO's miniseries slipped under most viewers' radar when it aired in 2015, but critics raved about it. The next time you have a few free hours (adopt GovPilot and it will be sooner than you think!), Show Me a Hero's rave reviews and subject matter may warrant a binge-watch.
Set between 1987 and 1994, Oscar Isaac stars as former police officer, Nick Wasciksco, who is looking to ascend from Yonkers, New York city councilman to mayor on a platform of desegregating public housing. Show Me a Hero's dark themes including racial tensions, the class divide, and the crack cocaine epidemic, are deftly navigated by smart writing and a stellar supporting cast that includes Winona Ryder and Catherine Keener.
The emotional miniseries follows Nick Wasciksco as he leads efforts to desegregate housing in Yonkers, New York, and will surely have you feeling a full range of emotions from the first episode to the sixth and final.
2. Parks and Recreation (2009-2015)
Parks and Recreation is not just one of the various local government departments GovPilot has software solutions for - click here to learn more about parks and recreation management software - but also the title of a beloved sitcom that aired from 2009 to 2015 on NBC and stands out as a historic comedy for the network.
The hype for Parks and Recreation is not at all overrated, as the government show's light and chaotic comedy bits are sure to make anyone laugh. The show follows department Deputy Director Leslie Knope (played by Amy Poehler), and her cast of coworkers as they stumble through on-and-off-the-job hijinks in the fictional city of Pawnee, Indiana.
Through comedic storylines and plots, the multi-season show explores hot topics in local government circles, and provides context for viewers about what tasks and responsibilities are really handled by a real life parks and rec department. Fall in love with the endearing parks department employees with this binge-worthy show, and learn a little bit more about what your local parks and rec department provides for your community!
3, Boardwalk Empire (2010-2014)
In this blogger's personal favorite, Steve Buscemi, plays crooked Atlantic City, New Jersey Treasurer named Nucky Thompson, brother of Sheriff Eli,as well as ally and enemy of infamous 1920s bootleggers—connections that eventually lead him from his status as "half a gangster" to notorious criminal.
With its blend of real-life figures and fictional characters, HBO's Boardwalk Empire paints a colorful picture of Prohibition Era local politics and the drama that follows Nucky throughout his rise to control Atlantic City, New Jersey.
This drama has racked in numerous awards such as golden globes and SAG-AFTRA awards over its four year run, proving how much fans and critics alike enjoy the show. Give Boardwalk Empire a chance and stream on HBO Max to catch up on the enthralling and dramatic show.
4. Spin CIty (1996-2002)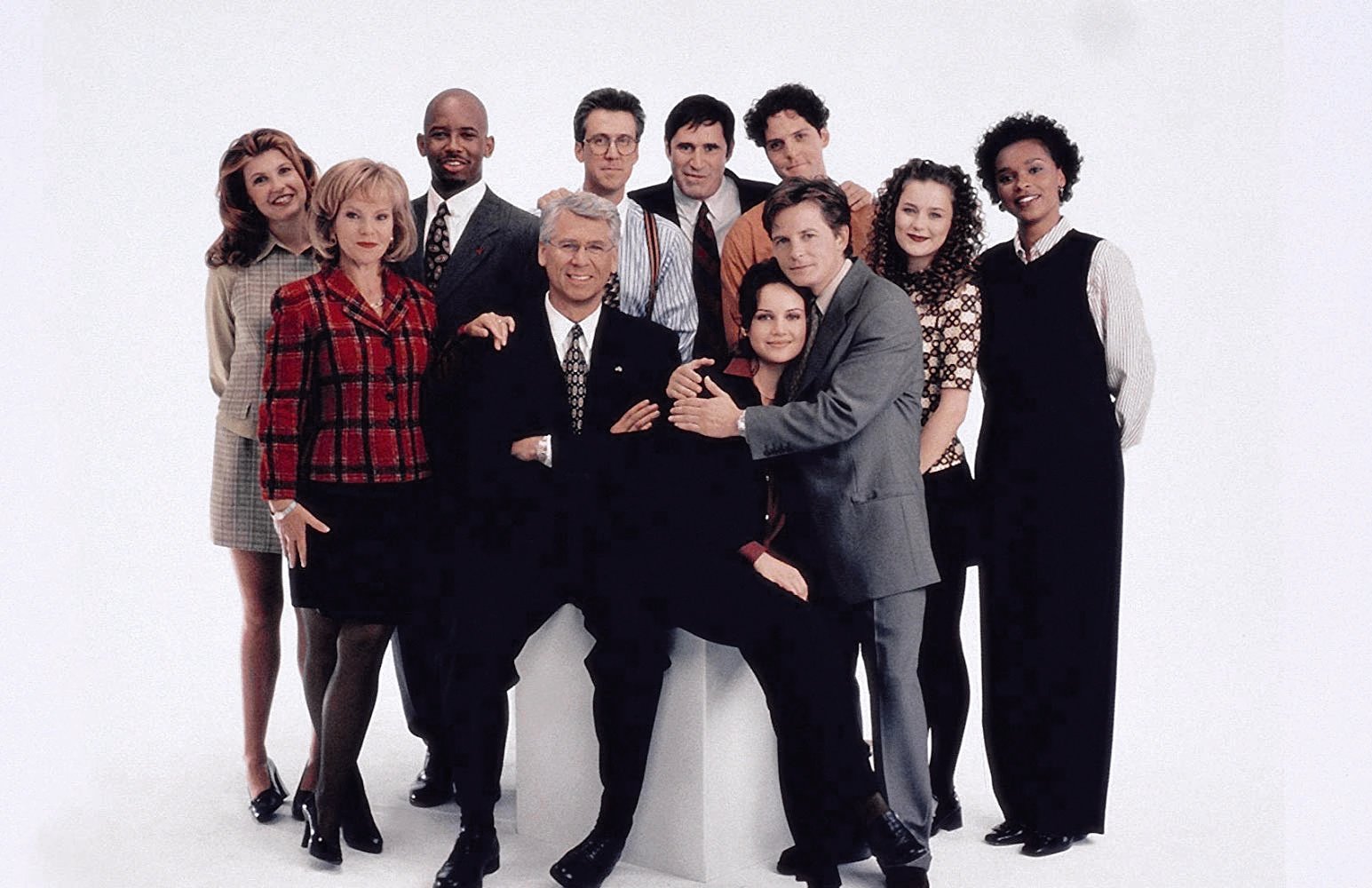 Spin City is a hilarious, irreverent, sitcom set in New York City Hall that ran from 1996-2002. The show started off as a rather good vehicle for Michael J Fox, as a young actor playing the smart young deputy mayor; the show later slotted in Charlie Sheen as his replacement.
The notable names tied to this show are not the only draw that has viewers still watching over twenty years later; the show includes interesting insight into operations of a local government with their comedic bits and talented actors. The show includes comical and chaotic municipal plot lines such as a subway train breaking down, pollution contaminating the city's rivers, and garbage collectors striking while abandoning their posts.
If you're in the mood for a classic comedy to binge, filled with unforgettable characters and wild situations, this is the show for you!
Movies About Government
Government movies tend to be fast moving and intense, the following films are no exception:
1. City Hall (2020)
City Hall, the 2020 American documentary film created by Frederick Wiseman explores the government of Boston, Massachusetts.
This government movie explores the topics of racial justice, housing, climate change action and more through the lens of the local government. Wiseman's documentary does not have a standard narrative arc, narration, or interviews, but is based on observation of day-to-day organizational life, in this case the activities of Boston's city government in fall 2018 and winter 2019 to provide an accurate look into the real operations of a local government.
A second major theme of the film is public servants helping people in need: the eviction prevention task force, another task force on economic advancement for Latina women, and an economic development adviser working with an ethnically-focused grocery store.
2. Chinatown (1974)
One of the most notable films on our list is the 1974 neo-noir mystery, Chinatown. Set in the 1930s and inspired by the California Water Wars at the turn of the 20th century, Chinatown opens with the murder of Los Angeles, California's chief water engineer.
In one of his most iconic performances, Jack Nicholson plays a private investigator who becomes entangled in the twists, turns and corrupt syndicates involved in the community. This mysterious plot is entangled with drama regarding the government agencies of Los Angeles at the time, making for a very interesting watch.
3. Milk (2008)
Most of the items on this list transport us to the local government's past and the 2008 film, Milk, is no exception. Sean Penn gives an Oscar-winning performance as Harvey Milk, who, in the 1970s, became the first openly gay person to be elected to public office in the state of California.
Milk trails its title character as he toils away at campaign headquarters, grapples with personal tragedies, offers witty retorts to political opponents and clears the path for other politicians who don't fit the traditional mold. Not only is this show dramatic and attention-catching, but it tackles the real life struggles of our societies 'outsiders' and highlights what a trailblazer must go through to pave the way for more societal acceptance towards the LGBTQA+ community.
If you're looking for a film to make you think, and possibly give you some new insight into perspectives you have never considered, this is the recommendation for you.
What Did You Think Of Our List of Government Movies and TV Shows?
What did you think about our list for television shows and movies on government life? If you've ever seen your own profession reflected in the media, what was the portrayal like? Do these portrayals of local government jobs seem realistic to you?
Learn more about local government operations by checking out the television shows and movies reflected in our list. And if you're a government official, learn more about how to really improve government operations in your community through GovPilot's Government Software Solutions.
Read on for more on the latest government trends: