The corporate world measures success by the quality of customer experience—all of the interactions the consumer has with a brand. GovPilot believes in setting similarly high standards for constituent experience and provides local government the automated workflow, data aggregation/display and digitization capabilities to meet them. The blog posts in our "Constituent Experience" series shine a light on districts that share our belief. The first installment explores how cities and counties across the United States leverage data to better serve their senior citizen population.
The Baby Boomers aren't babies anymore. In fact, 10,000 members of this generation reach retirement age each day. Smart cities and counties around the United States are wisely considering the unique needs of their aging populations. The most successful initiatives draw on data. The districts listed below have spun various data sets into programs that innovatively address the social, practical and medical needs of senior citizen constituents.
Los Angeles County Tracks Alzheimer's Sufferers
Home to beautiful beaches, mansions and movie stars, Los Angeles County residents are thought to be living the dream, but for the loved ones of senior citizens with Alzheimer's disease,or dementia, the area's high temperatures, bustling streets and bodies of water are the stuff of nightmares.
According to the Alzheimer's Association, 60% of people with dementia will wander at some point. The case of Manhattan Beach resident, Nancy Paulikas, is a tragic example of the consequences. Afflicted with Alzheimer's, Paulikas went missing in October 2016, when she wandered off from her family as they toured the Los Angeles County Museum of Art. Her remains were discovered on a burned Southern California hillside two years later.(It is worth noting that over 10,000 adults were reported missing in Los Angeles County in 2018 alone.)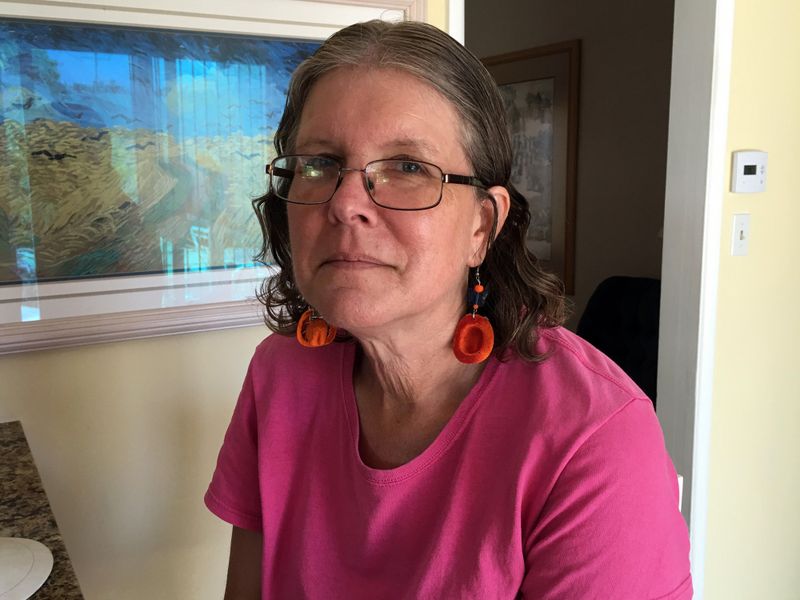 In October 2016, Nancy Paulikas wandered from her family as they toured the Los Angeles County Museum of Art. Her remains were discovered on a burned Southern California hillside two years later.
County Supervisor, Janice Hahn, cited stories like Paulikas' when championing the establishment of LA Found—a countywide initiative to help locate individuals with Alzheimer's, dementia, or autism who wander.In collaboration with other county departments and stakeholders, LA Found has developed and implemented improved community alert methods, law enforcement procedures and other worthwhile initiatives. Last October, LA Found leveraged advances in tracking technology to further its mission.
LA Found partnered with public safety nonprofit, Project Lifesaver, to distribute 30 radio frequency equipped arm bands to at-risk individuals and their caretakers, who were given rechargeable batteries and instructions on how to maintain the device. Arm bands communicate with police, helping them triangulate the location of the person wearing it.
So far, the program has used the bracelets to successfully locate and recover four individuals who had wandered off.LA Found has since secured additional funding to purchase more bracelets. 235 Los Angeles County residents are currently enrolled in the Project Lifesaver pilot.
Columbus, Ohio Pairs Unlikely Pals
According to a survey conducted by leading senior citizen advocacy group, AARP, 90% of older adults prefer to stay in their homes or communities for as long as they can.As Danielle Arigoni,AARP's director of Livable Communities explains, "There's an antiquated notion that a retirement community is what everybody wants. But actually...they want to be able to age in the same communities that they raised their kids in, or maybe they grew up in themselves."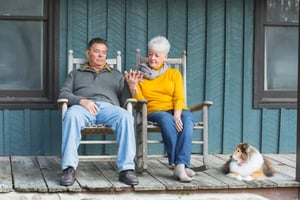 This seems to be the thought behind Columbus, Ohio's Age-Friendly Columbus—an initiative designed to provide older members of the community the stability and inclusion they crave. In 2016, the Midwestern city began surveying residents and neighborhoods to assess how well outdoor spaces and buildings, transportation, housing, safety/emergency preparedness plans, employment/civic engagement, communication/information and community support/health services accommodate residents 65 years and older. Findings helped Columbus officials develop a comprehensive strategy that includes innovative social programs. One "skills swap" program pairs older residents with young students of Ohio State University's School of Social Work, who teach senior counterparts the ins and outs of everyday digital tools and accompany them on tech-related events, such as their first Uber ride.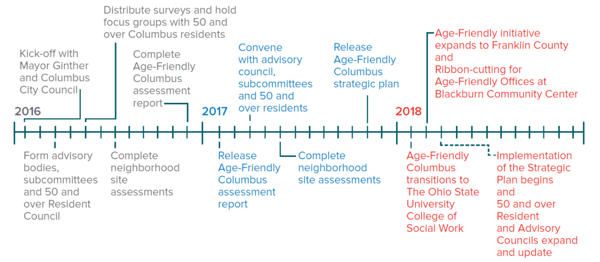 In Midway, Florida Senior Privileges Include an Extended Recess
Premier retirement destination, Florida, has a long history of taking the needs of its large senior citizen population into account. The multigenerational playgrounds springing-up around the Sunshine State are a recent example of this inclusive approach. At one such playground, in Midway, children's slides and monkey bars sit beside workout equipment built for adults. The unique design was born of a 25 person brainstorming session that included older adults from Midway Safe Harbor's adult enrichment and foster grandparent programs and children from a local boys and girls club. The adults wanted exercise equipment that targets range of motion, muscle strength, stability and balance, so each of the playground's three exercise stations incorporates yoga moves to build flexibility and stability. A staircase helps seniors exercise their knees, and strength exercises illustrated on the equipment address all parts of the body. For Constance Anderson, the playground eliminates the old excuse of "I really don't have the time to go and exercise myself because I've got to watch these kids." Instead of sitting her 6-year-old grandson in front of the TV while she putters around the house, Anderson opts for outside. "I get my exercise, and the kids get theirs, too."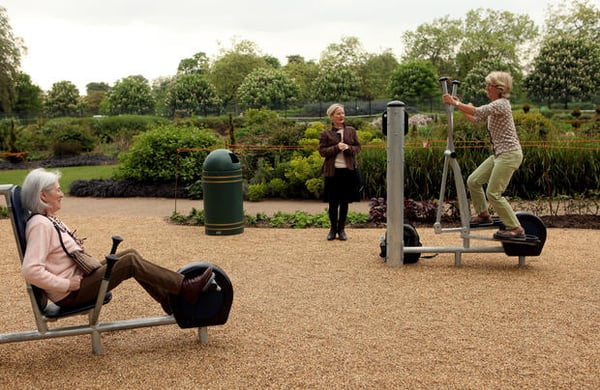 New Providence, New Jersey Teams with GovPilot to Better Serve Senior Citizens
Officials in the cities outlined above are using the data and tools at their disposal to ensure older residents don't age out of the community. For GovPilot clients looking to achieve the same, the possibilities are endless.Just ask officials in New Providence, New Jersey.
In the fall of 2016, the borough began offering residents the option of purchasing a permit to have their leaves vacuumed from the curb by New Providence's Department of Public Works. The permit could be purchased through a GovPilot digital form published on the municipal website at any time of day before the November deadline.
The option to outsource this physical task was and remains especially appealing to New Providence's senior citizens, who constitute 14% of the borough's population. Less than one week into the digital form's debut, New Providence collected 250 applications, which generated a whopping $13k in revenue generation.
GovPilot: Limitless Applications. Limitless Potential to Create a More Inclusive Community
From Cleveland's resident surveys to Midway's multigenerational brainstorming session, the first step of each successful senior-focused initiative is the collection of data. Fueled by information aggregated from online digital forms (in addition to the aforementioned Leaf Removal Permit, GovPilot's module library includes a digital Senior Citizen/Disabled Tax Deduction application form), GovPilot's PropertyProfile feature provides statistics on the occupants of each household, empowering officials to accurately gauge the number of residents over 65, the areas in which they tend to live and other actionable insights.
Communicating plans for a survey, brainstorming session, launch of a "skills swap" program or the opening of a multigenerational playground is made simple by the geographic information system (GIS) map's MailMerge capabilities. Officials can issue emails, or more demographic age appropriate flyers, with just a few mouse clicks.
The competence and convenience of GovPilot helps local government officials perform each step of a senior citizen-friendly initiative.