It's another installment of "Fix it Friday"—a series in which each blog post examines a different issue commonly faced by local government and successfully resolved through the adoption of GovPilot.
Fix it Friday: Budget Restrictions
This installment of "Fix it Friday" discusses a dirty word that begins with a "B". We are, of course, referring to "budget"! What were you thinking?
Though budgeting is necessary for legal and efficient operations, any government employee will tell you that budget allocation is a common source of discord and stagnation. GovPilot understands and we are here to help. Keep reading for a solution to what may be your biggest challenge!
The Issue
When establishing an annual budget, most local governments take the following 5 factors into consideration:
Input

- Available revenue to finance public services for the coming fiscal year.
Process-

Encompasses administrative preparation, legislative approval, financial implementation and a third-party performed, year-end audit.
Output-

Based on available revenue and approved allocation of revenue to cover projected departmental services in the coming fiscal year.
Feedback-

Elected officials and administrators opine on the annual, third-party performed audit.
Environment-

Comprised of interrelated factors, including the county or municipality's political, economic, social and legal status.
For all of the logic and strategy involved in developing a budget, there are many emotions entangled in its execution. Because of this, budgeting for local government can sometimes be, well, political. Members of one department may feel slighted when revenue is allocated to fund another and elected officials may be disappointed when there is minimal funding to bring campaign trail promises to fruition. Built exclusively for local government and the budget restrictions that entails, GovPilot resolves many of these all-too-common funding problems.
The Solution
When you hear about a government management platform developed to streamline your current operations, your kneejerk reaction may be to say, "We don't have the budget for that". Once you learn about GovPilot, you'll realize our namesake platform is totally worth it.
We're sure all departments will agree. While budget allocation has been known to create conflict between disparate departments, GovPilot offers something for everyone. Our product catalog boasts automated marriage license issuance for the Clerks' Department, mobile capabilities for Code Enforcement and over 100 optimized versions of everyday processes performed by each department.
Even if your budget only allows for Building and Construction to use GovPilot, the platform is completely scalable. Next year, you can introduce GovPilot to your Tax Assessor and the two departments can enjoy seamless collaboration.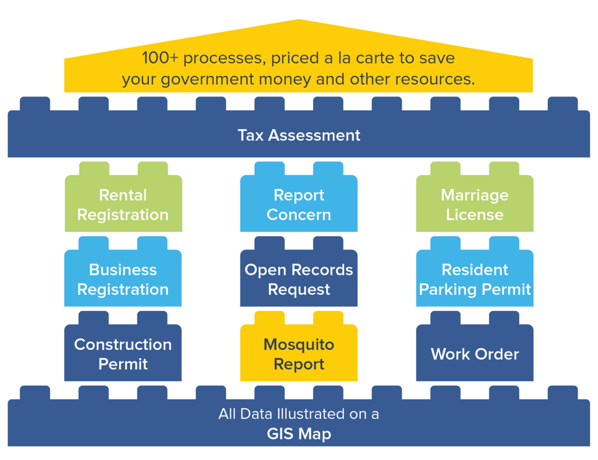 The GovPilot platform is completely scalable.
You may have a small budget now, but GovPilot promotes more efficient operations to promote revenue generation. Just ask New Providence, New Jersey! New Providence's decision to streamline its resident and non-resident parking permit application process through GovPilot digital forms was met with an overwhelmingly positive response.
Home to two train stations and several Fortune 500 companies, New Providence is a bustling city with full parking spots to match. Parking permits for New Providence's two train stations are available to residents upon request. In addition, the city grants parking permits to 20 non-residents annually.
Formerly, applicants purchased and completed permit applications at one of the train lots, at the Borough Clerk's office or via mail. Government officials manually entered applicant data into spreadsheets.
Government officials recently outfitted the municipal website with GovPilot digital resident and non-resident parking permit application forms for improved management.
The public response was positive and instantaneous. Limited non-resident permits were issued at an even quicker rate than usual. A mere three hours after the ecommerce capable forms debuted, New Providence had generated a whopping $85k and for a short time, ran out of resident parking permits.
Last, but not least, GovPilot is affordable. Our platform is fully customizable, right down to its price.Unlike competitors, our platform is not available at a set rate. Pricing is dependent on parcel count.
GovPilot offers a module for every purpose, a plan for every price point and a solution to every problem... So, what do you say? Still don't have the budget?
Schedule a demo to learn more about GovPilot.