COVID-19 turned local governments, economies, and businesses on their heads. Outdoor dining became a staple in states where indoor dining was discontinued. Concerned citizens switched using public transportation like buses, trains, and subways to walking, biking, or driving if they had their own car.
For the first time in a long time, town and city government workers had to pave the way for constituents to reclaim the streets, and in many ways, recent government innovation has changed things for the better. Communities around the country set up outdoor dining areas with gorgeous lighting and fresh air to keep restaurants and other small businesses afloat and give constituents a fun excuse to get out of the house. Areas previously dedicated to car traffic became designated for those who opted to walk or bike instead.
Even now that the world has returned to pre-pandemic normalcy, it's clear that a policy of reclaiming the streets should be here to stay. But, for local government officials and employees, understanding the importance of why these municipal planning structures need to stay for the long-term and how they can help drive local economic development as local businesses adjust to a more outdoor, pedestrian friendly arrangement can be challenging.
Follow along to learn how your community can adjust for a new era of municipal planning and livable streets.
What is Street Reclamation?
Street reclamation is the urban planning process of turning roads previously designated for usage by vehicles into pedestrian-centric walkways and communal areas. As a result of COVID-19, cities saw a massive decline in public transportation usage and travel, and a massive increase in walkers and bikers. Simultaneously, Federal and state level restrictions required limited indoor dining, making sidewalks, parking spaces, and even entire streets valuable space for restaurants and stores to continue operations outside in order to stay in business.
Many communities are opting to continue to take back the streets by keeping outdoor dining and pedestrian walkways around, making for healthier communities and happier citizens.
Read on for more insight into using street reclamation for better Public Space Usage and Management.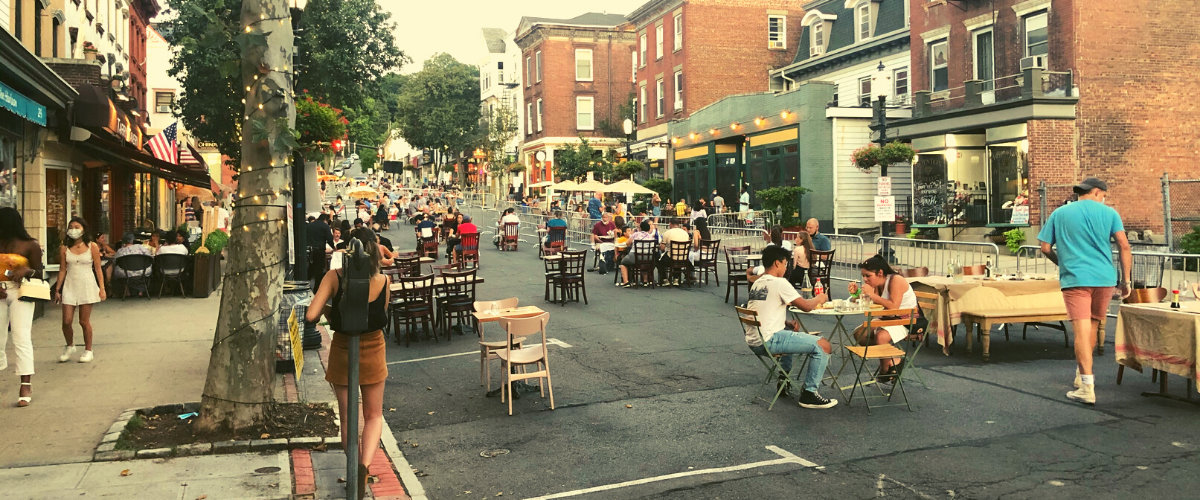 What Are Examples of Street Reclamation?
There are many ways that local communities are reclaiming the streets.
Here are some of the most popular municipal planning strategies taking place in recent years:
Outdoor dining areas: Even as indoor dining restrictions loosen, it's clear that local constituents love having communal outdoor dining. In Red Bank, NJ, the local government designated a busy road as an outdoor dining zone for all of the local restaurants. While it was originally just a plan to help struggling restaurants keep busy during COVID-19, the outdoor dining zone was such a hit and drove so much local economic development that they have continued to to bring it back in the summer.
Biker / pedestrian lanes: For many, the pandemic was a wake up call on avoiding public transportation. When the New York City government announced the city would start cleaning the subways on a daily basis, many community members were left thinking "wait, they weren't doing that already?" Simultaneously, many businesses switched to a remote structure, eliminating commutes of all kinds - employees no longer needed to take a bus, train, subway, or car to their office. With the decline in usage of public transportation came an unprecedented surge in foot traffic and cyclists as residents remained closer to home in their local neighborhood, whether in major cities, or small towns. Urban planners and zoning officials are now considering ways that their cities can accommodate for this new found passion for walking and biking.
Outdoor shopping: With areas being designed to be more pedestrian-friendly, demand for outdoor shopping is up like never before. In many places, shops are taking their products outside, and street vendors, farmers markets, and street fairs are popping up like never before. Use mobile food vendor and street vendor licenses to get shops out on the streets.
Sprucing up parks: Living in places that are environmentally friendly is important to many city dwellers and suburbanites alike. As a result, many urban centers and small municipalities are considering ways to improve on existing parks, create new parks, and increase the number of community gardens in order to provide and encourage more healthy outdoor activity for residents. Here is a Modern Parks & Recreation Strategy to Consider.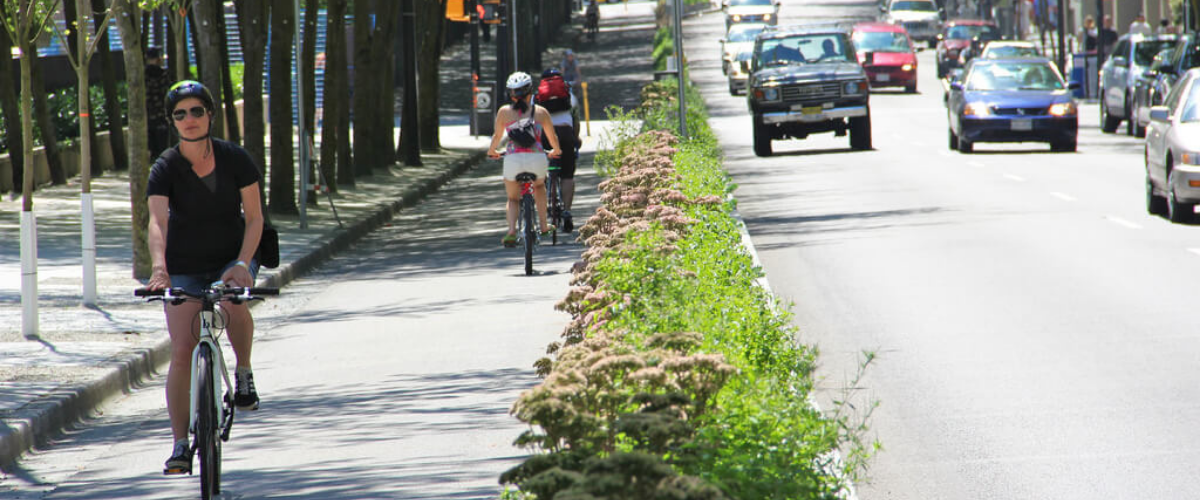 Why is Reclaiming the Streets Important?
There are countless benefits to improving on the current urban infrastructure, especially given federal grants for local governments in the American Rescue Plan Act and Infrastructure Investment & Jobs Act.
Here are some of the ways that reclaiming the streets will improve the lives of government workers and their constituents:
Improved quality of life: everyone knows that consistent exercise and fresh air offers both physical and mental health benefits. Encouraging your community members exercise by hopping on their bike or taking consistent walks around the neighborhood will improve the overall quality of life for the entire community.
Reduced pollution: More bikers and walkers means that there will be less cars on the roads of your town or city. As thousands of communities reduce carbon emissions on a local level, the average carbon footprint per American will be reduced over time. Better air quality, and less vehicular noise, improves quality of life and public health.
Economic improvements: Small businesses around the country struggled to make ends meet as a result of the pandemic. In places that offered lots of outdoor shopping and dining however, the businesses fared much better than communities confined to solely indoor dining and shopping. As the pandemic rescinds, a gorgeous outdoor set-up will draw people from all around, and can help brands and local small businesses recover more quickly from the economic toll in 2020.
Improved

Civic Engagement

: If you want to win your community members over and increase the number of constituents who show up and support you at the polls, showing them that you prioritize public health and take innovation within your community seriously, is a great way to do so.
How Can Government Management Software Help With Municipal Planning?
Many restaurants and shops are making the move to outdoor dining and shopping for the first time ever. Government management software can make the process easier for everyone.
Business registration software and planning and zoning software can help local business owners get their sidewalk set-up squared away with just a few clicks. Health Inspection software eliminates paper processes and the need for inspectors to return to the office to manually enter information into a database, allowing for fast, efficient inspections and convenient digital licensing that will reduce stress for business owners and save time for the inspection department which will be able to take on more scheduled inspections each day.
Reclaiming the Streets: Final Thoughts
If there's one positive to the COVID-19 virus, it's that it forced society and local communities to innovate in areas that desperately needed it.
We were long overdue to adapt built environments, enhance outdoor spaces, and encourage community members to walk or bike instead of drive. Enabling local businesses like restaurants and shops to move outside clearly improves the local economy and quality of life, and many local governments have recognized that, embracing pandemic driven changes for the long-term.
With the use of government management software making the process of reclaiming the streets more simplified than ever before, there's no excuse not to make the push towards a new era of municipal planning!
To learn more about how you can use software to transform your community for the better, schedule a demo here!
Reclaiming the Streets FAQs
1. What does "Reclaiming the Streets" Mean?
Street reclamation is the urban planning process of turning roads previously designated for usage by vehicles into pedestrian-centric walkways and communal areas.
2. Why is street reclamation important?
For local governments, initiatives to "reclaim the streets" can lead to greater civic engagement and economic development as residents explore their neighborhoods, visit parks, and interact with local businesses. By reducing traffic and giving room once reserved for vehicles (streets, parking spaces) to local businesses and citizens, municipalities become more livable, community oriented, and healthy.
3. Can my municipality take on street reclamation initiatives?
Absolutely! In fact, your residents will probably enjoy and appreciate the benefit that it brings. With more space for pedestrians, foot traffic will increase in areas that have been reclaimed from vehicles. In turn, increased foot traffic can lead to more business for local retail stores and restaurants.
Read on: