Are you concerned that your community is not suited to withstand a flooding disaster? It's understandable. Of all the natural disasters that can occur, flooding is one of the most impactful, and challenging emergencies to prepare for and respond to. Keep in mind that anywhere it rains, it can flood... and climate change is worsening the risk everywhere.
That's why any local government, regardless of location, should be prepared to withstand a sizable flooding incident. Unfortunately, as many recent disasters have horrifically demonstrated, many local governments are not prepared to respond over the long-term to the devastation caused by flooding. And, of those that do have a response plan, an even smaller percentage have a long term recovery plan, despite the fact that damages from flooding often take years to repair and rebuild.
President Biden recently confirmed that $1 billion dollars will be allocated to help local communities prepare for natural disasters, meaning your municipality will have money to spend specifically on the mitigation of floods and other disasters
In the meantime, here are ways to prepare for a flooding emergency, as well as some of the ways you can respond and recover following a severe flood.
Why Do Local Governments Need to Be Concerned About Flooding?
Flooding can cause millions of dollars in damage to your community, and recovery can often take years. To make matters worse, floods are amongst the least predictable types of natural disasters, meaning that even if you have designated flood zones, history doesn't assure that a previously unscathed area is safe from flooding in the future especially as climate change continues to cause more severe storms and flooding.
As a result, local governments need to take action to protect their physical and IT infrastructure, prepare constituents to react appropriately in the case of a severe flood, and have a response plan in place to move quickly to address damages.
What Are the Phases of a Flooding Disaster Preparedness Plan?
Disaster preparedness is typically broken down into four phases: mitigation, preparedness, response, and recovery.
Here are the ways you can prepare and respond to a flooding emergency:
1. Flood Mitigation
Mitigation is the process of being proactive well in advance to reduce the potential impact of a storm.
Some of the most prominent flood mitigation techniques:
Upgrade to cloud-based government management software: outside of

ransomware attacks

, floods pose one of the largest threats to your critical government data and operations. All too often, governments with dated on-site servers suffer the loss of their electronically stored information. By moving to the cloud, critical departmental data will still be accessible to government workers. Keep in mind, the funds your community will be receiving from the

American Rescue Plan

are legally allowed to be put towards IT infrastructure, meaning you'll soon have the funds on deck to implement this mitigation technique.
Establish flood zones: while flooding can occur somewhere that's never been flooded before, history does tend to repeat itself. Make sure that your community members are aware of places to avoid in the case of a flooding disaster. The easiest way to inform citizens of flood zones is to leverage

GIS mapping software

. Constituents can use this technology to see a digital map of the community with flagged areas for flood zones.


Use Floodplain Management Software: Municipalities must be able to report to their state and to FEMA, updates and status of any parcel located within a flood zone, and must require permitting for any building and construction, or hazards on these properties. Instead of using an inefficient paper process, consider utilizing GIS mapping software and a digital floodplain application form which saves inspectors hours per week and can provide instant reporting in the event of an emergency.


Create flood water diversions: if an area is known for floodwater, establish

flood water diversions

like dams or dikes that can store water and divert it to prevent the spread to neighborhoods, businesses, or streets.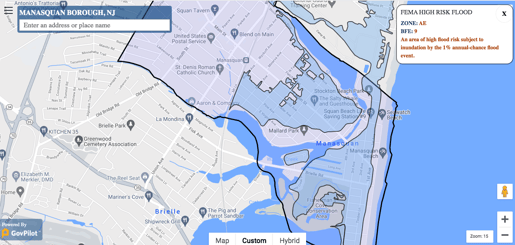 2. Flood Preparedness
Taking mitigation steps for flooding just sometimes isn't enough, as freak storms can cause damage to even the most precautious communities. As a result, you'll need to take steps as a local government to make sure everyone is prepared.
Local governments should make available critical information and resources to constituents about how to effectively prepare for disaster and the steps to take in order to recover efficiently. The national disaster resilience and recovery non-profit, SBP, whose mission is to shrink time between disaster and recovery, has compiled a comprehensive, easy to use library of critical pre and post-disaster resources for home and business owners. The resources, including eLearning courses, videos, and PDF guides can found at sbpprotects.org can be shared on your government website or distributed physically as appropriate.
The organization recently partnered with AT&T to create a mobile app called "Equip", which is designed to provide home and business owners with interactive guides and checklists to help them prepare for and recover from disasters including floods, hurricanes, tornadoes, and fires.
Here are ways to prepare for a severe flooding incident:
Create an emergency preparedness plan: create a plan for how your government and community will immediately respond to a major flood. Prepare evacuation routes, communication lines, establish leadership roles, and have your step-by-step immediate response plan outlined.


Educate and train community members on flooding: the local government needs to have a game plan in place, but so should your constituents. Offer regular training and resources on how to prepare and respond to a flood so that the community members can mitigate their risk prior to disaster, and can recover efficiently should one strike.
These resources from national disaster recovery nonprofit, SBP

are invaluable.




Pre-disaster resources from SBP are a great place to start and can easily be made available to constituents.

SBP Mobile App: Equip: Disaster Planning & Recovery
Encourage people and businesses to get flood insurance: flood insurance can ensure that in the case of a home or business being ravaged by flood waters, community members will have the funds to rebuild.


Set up communication lines: if a flood is imminent, give constituents a heads up and a recommendation to evacuate via communication channels. Having these in place will also be critical in the wake of the storm as people expect updates and instructions.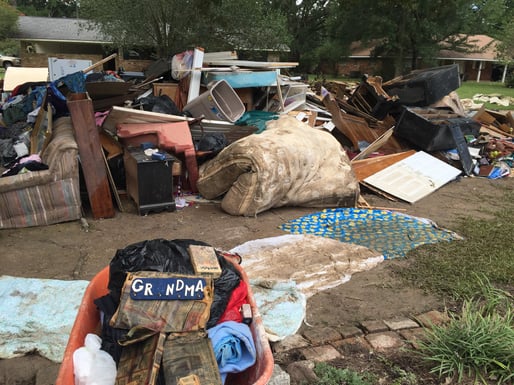 3. Flood Response
The immediate actions taken after a flood occurs are vital. Here are some of the crucial actions you'll need to take right after flood water strikes:
Implement your disaster preparedness plan: you outlined a step by step process for this exact situation. Time to put your plan into action.
Perform search and rescue missions: if community members were not able to evacuate in time, make sure you actively seek out and find any missing persons and/or animals stuck in the flooded areas.
Update your GIS mapping: one of the major benefits of a GIS map is that it is accessible to constituents and can be updated in real time. When a flood occurs, government workers can quickly update the GIS map so that community members know which areas are affected and should be avoided, as well as the ability to view evacuation routes, and location of emergency services.


Contact the federal government: Federal government departments like FEMA and HUD are prepared to provide disaster relief funds to communities impacted by natural disasters. Unfortunately, the funding usually isn't received right away. Be proactive by conducting damage assessments and encouraging impacted property owners to to pursue the maximum individual assistance award from FEMA so that your community can request appropriate recovery funding from the Federal government.
4. Flood Recovery
Making a full recovery from a major flood isn't something that happens overnight.
Here are some of the steps that will need to be taken in the long-term to recover from a flood:
Update old infrastructure: oftentimes after a flood destroys old infrastructure, it is worthwhile to update buildings to prevent similar damage by future storms. Putting homes and buildings on stilts and moving government departments to cloud-based software are wise ways to prevent future destruction.
Work with the federal government: before your local government receives federal funds, the federal government will need to assess the damage. You should work alongside them and keep dialogue open, so that you can leverage the damage assessment to prioritize tasks in your recovery plan. GovPilot's FEMA expense tracking module can help your departments keep an accurate, organized, real-time accounting of all disaster related expenses so that your government can get reimbursed quickly.
Communication is key: make sure that your local government is regularly in touch with volunteers and local leadership to provide a clear timeline and instructions on what actions need to be taken to recover. You'll also want to regularly update constituents eager for an update on when normalcy will return.
Consider Free Advisory Services: According to SBP, The primary challenge is how little programmatic direction disaster recovery leaders receive. Granting agencies within the federal government provide resources to state and local governments but offer little information or advice in the way of program design and execution. Disaster impacted states and communities often become siloed, and lack the communication network required to share the most effective techniques and best practices. This information gap leaves many leaders without the tools they need to assess need, action plan, contract for services, or implement and scale recovery efforts. To counter this, SBP offers

free advisory services

and a

leader practitioner course

to help local leaders better understand and lead through the recovery process.
In Conclusion
Flooding can devastate a community. The unfortunate reality is that flood is the most common natural disaster and can occur anywhere it rains. Even heavy rainstorms can cause massive damage. Lives can be lost, homes can be destroyed, and precious data and records can be gone for good.
Fortunately, a well thought out disaster preparedness plan can help your community to bounce back from even the most severe storm. Take the time to mitigate and prepare for storms now so that you won't be caught off guard when a flood strikes.
Government management software is one of many important flood mitigation solutions. To learn more about how it can help mitigate the impacts of a flood and other natural disasters, and help local governments ensure a predictable recovery, schedule a consultation.
Flood Mitigation & Disaster Plan FAQ
1. What is flooding mitigation?
Mitigation is defined as taking preventative measures against a potential catastrophe such as a storm or wildfire. In the case of flooding, it is taking action to prevent flood damage from destroying physical and IT infrastructure.
Some examples of flood mitigation solutions are using cloud based storage systems for your government data, establishing areas known for flooding as flood zones, and building water diversions such as dams or dikes to prevent floods.
2. How should your municipal government prepare for a flood?
Even with a proper mitigation strategy, bad storms can still wreak havoc. As a result, you'll want to prepare for instances of flooding to still occur. Have an emergency preparedness plan in place that outlines evacuation routes, communication methods to contact constituents, and a response strategy. Train local community members on the best practices to prepare and respond to a flood. Last but not least, encourage people and businesses to purchase flood insurance.
3. How should your municipal government respond after a flood?
Taking action immediately after a flood unfolds is critical to save lives. Quickly implement your emergency preparedness plan by performing search and rescue missions. Update your GIS maps based on where there is damage in your community.
Make sure you're in touch with the federal government as quickly as possible. It takes time to get relief funding from FEMA, so you'll want to get the ball rolling sooner than later so you can begin to rebuild.
4. What actions are needed to fully recover from serious flood damage?
Recovery from a flood takes time. In order to give your constituents a return to normalcy and to prevent future storms from causing similar damage, update antiquated infrastructure to better withstand storm waters, build a roadmap for how federal funds will be spent so you can take action quickly when it arrives, and keep communication lines open between your municipal government and concerned constituents.
5. Does my municipality need to be concerned about flooding?
Unlike other natural disasters that primarily occur within specific regions, floods are particularly threatening in the sense that they can happen anywhere that rainfall can occur. As a result, regardless of the state you live in, your municipal leadership should take action to prepare for floods. That being said, data from World Atlas states that all states in the eastern portion of the United States through more western states like Nebraska, Texas, Colorado, Oklahoma, Kansas, and the Dakotas are most prone to flooding.