If you're reading this, you're probably considering leveraging GovPilot software to modernize your local government operations. It would involve migrating historical records to the cloud, establishing and automating current workflows, a website revamp and an adjustment period for staff. How long would all of this take? We guarantee it's shorter than you think.
Offering over 100 state-of-the-art modules for a wide range of departments, GovPilot is blazing trails in the government software sector. We may set the bar for development high, but we set the bar for learning curve low, to ensure that clients never miss a beat on their march toward productivity. Keep reading to learn how we make learning so easy!
A User-Friendly Interface
Digital forms. Automated workflows. Geographic information system (GIS) map layers. GovPilot technology may sound intimidating, but we've made these sophisticated tools startlingly simple to use.
With unlimited seats, it is imperative that GovPilot operates in a way that appeals to users on all shades of the tech savvy spectrum. Our team is forever refining the platform's interface for ease of use. Exhibit A: the homepage.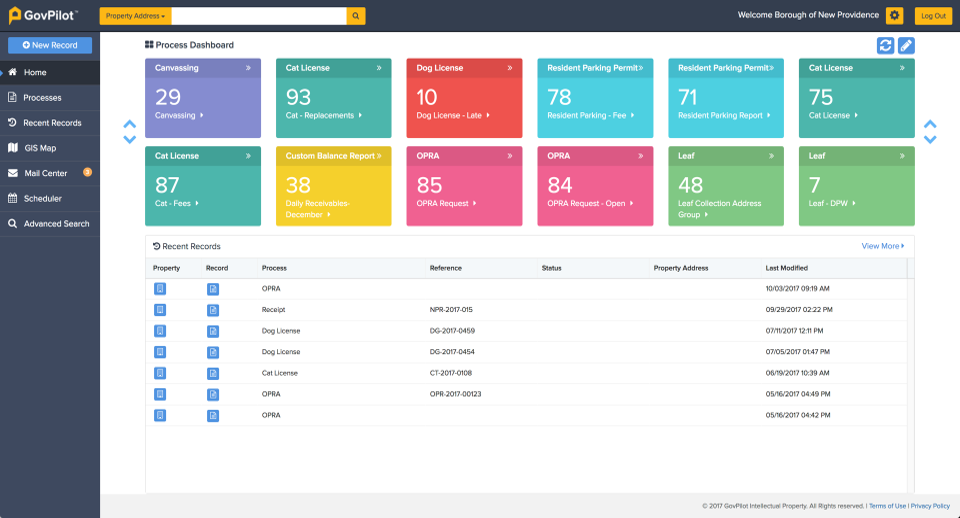 Early this year, we unveiled our Jet interface. Upon logging into Jet, users are greeted by brightly colored squares that represent the processes they are involved in. Once clicked, these squares serve as portals to productivity, granting access to data in chronological order, editable information and so much more.
5-Star Training and Support
Your designated GovPilot Project Manager ensures that this exploration period is always interesting, never intimidating. They'll work with you to acclimate staff to the new, more efficient way of doing things.
Still have questions? Call our Support line on any weekday, from 9 am to 5 pm. GovPilot guarantees a human voice ready to assist you in a friendly and timely mannner. You'll quickly realize why our Support team garners 5-star reviews.
When it comes to using GovPilot, everyone is a quick learner!
Schedule a demo to learn more about GovPilot.