7 seems to be New Jersey Government Information Science (NJ GMIS)'s lucky number! On April 7th, the esteemed association of public sector technology leaders held its 7th annual Technology Education Conference (TEC) at the Palace at Somerset Park in Somerset, NJ. GovPilot™ wouldn't miss an opportunity to network and exchange ideas with hundreds of NJ's government and public school technology professionals. We were at table 43 demonstrating our software's ability to unify municipal departments and streamline critical operations. Settle in, we'll tell you all about it! Plenty of Fresh and Familiar Faces at Table 43 NJ GMIS TEC 2016 was fantastic! From the food to the decor, the Palace at Somerset Park certainly lives up to its name. While we enjoyed the perfectly seasoned fish and gorgeous venue, our main motivation for participating in NJ GMIS TEC was the people. GovPilot™ attended the conference to reconnect with friends and collaborators as well as to establish relationships with new ones. We did all of that and then some!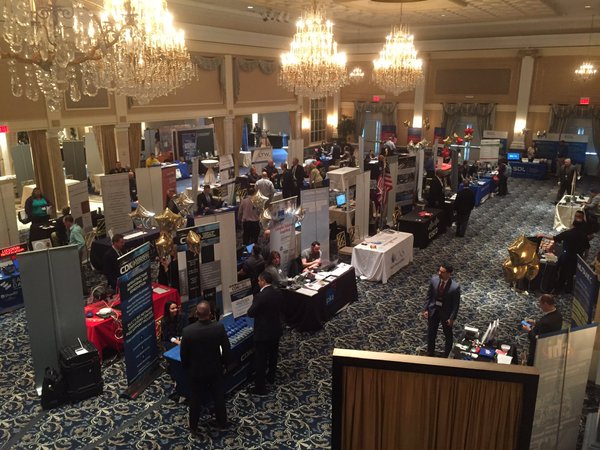 At the conference, GovPilot™ ran into Lauren Skowron, one of our old friends from environmental advocacy nonprofit organization, Sustainable Jersey. Ms. Skowron visited our table to talk open data initiatives, government efficiency and the numerous ways constituents benefit from transparent municipal operations. We also discussed our mutual excitement over June's Sustainability Summit. We also spoke with representatives from client, South Orange. The town recently unveiled an array of GovPilot™ designed municipal website features. Since the upgrade, South Orange has been enjoying improved constituent engagement and increased productivity. It is always a pleasure to catch-up with TEC foundation President, Marc Pfeiffer. We are honored to call the e-government authority a fan and friend. Speaking of longtime supporters, Loren Wizman, Business Development Director of the New Jersey Association of Counties (NJAC) stopped by table 43. NJAC has endorsed GovPilot™ since its inception. Fresh faces included representatives from NJ municipalities, East Orange, Plainfield and Glassboro as well as employees of renowned NJ IT firm, SHI. Fan Favorites NJ GMIS TEC is more than a great networking opportunity. It is also a chance to gauge the needs of our clients. Of all of our robust namesake software's capabilities, conference attendees were most interested in discussing the following:
Code Enforcement

NJ GMIS TEC attendees were awestruck by GovPilot™'s ability to enhance all facets of code enforcement. However, they were particularly impressed with the software's potential to revolutionize violation management. With GovPilot™, code enforcement agents can enter violation data from the field via their mobile device. No more clipboards! Cloud capabilities mean that data entered is instantly saved and accessible to all relevant parties, regardless of location. GovPilot™ draws from pre-existing data to ensure that information entered is consistent and free from redundancy!
Economic Development

GovPilot™ facilitates a number of processes that promote municipalities' economic development, including vacant property management and new business registration. Naturally, NJ GMIS TEC attendees wanted to learn how and we were happy to oblige.
GovPilot™ would like to thank NJ GMIS for having us at the conference. We would also like to thank all of the new and old friends who stopped by table 43. You've provided us with invaluable encouragement and insight. We look forward to future collaborations! Keep reading GovPilot™'s blog for the inside scoop on industry events, like NJ GMIS TEC!