Atlantic Highlands is a borough in Monmouth County, New Jersey. With a population of approximately 4,385 residents, the municipality has a rich maritime history. Mount Mitchell, located in Atlantic Highlands Borough, has the highest elevation on the eastern seaboard, south of Maine, offering sweeping views of Raritan Bay and New York City.
Litte Town. Big Challenges
Dwayne Harris, Business Administrator and Clerk, joined Atlantic Highlands in 2004. Recently, his focus has been improving efficiencies and processes so the Borough can keep pace with the growing demand of government services with less available resources. Like most small municipalities, the borough historically managed and stored its property-related records on paper. Accessing these records was time consuming. Sharing cross-department information was challenged. Physical space was limited and insight was non-existent.
Enter GovPilot
Mr. Harris felt it was time for Atlantic Highlands to embrace the efficiencies of a cloud-based platform that would enable him to largely remove paper from the Borough's business processes. His overarching goal was to have a complete digital, historical record of each property that is accessible at moment's notice. In 2014, Atlantic Highlands deployed GovPilot to run a number of Borough's departments.
According to Mr. Harris, GovPilot has "stepped up [performance] like you wouldn't even imagine". The platform, which is pre-loaded with valuable data sets, such as assessment and property ownership information, has become a complete source of information. The Borough replaced numerous paper forms on their website with GovPilot digital forms. Residents can submit applications and license requests from the comfort of their own home, 24-hours a day. Without redundant data-entry, Atlantic Highlands has freed up significant resources.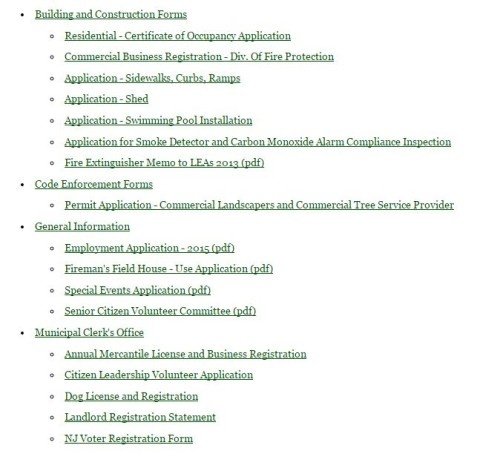 Formerly, Atlantic Highlands relied on a Geographic Information System (GIS), powered by one of the most widely-used GIS software providers in the industry. This software required technical expertise to not only configure and manage, but to use for day-to-day tasks. As a result, the Borough's adoption was low. Atlanic Highlands replaced their GIS with GovPilot. According to Mr. Harris "people with very little computer skills use it regularly".
Complete Solution For Governments
Since using GovPilot, Mr. Harris says their is less resident inbound traffic, largely attributed to making the Borough's capabilites self-service and on-demand. The time it takes to access information and processing license and application requests has decreased exponentially. Mr. Harris feels that GovPilot has taken a forward-thinking approach to solving problems faced by governments big and small. He says that GovPilot has the capability to become the "complete solution for governments".