Since 2016, leading industry website, GovTech, has compiled an annual list of online community engagement forums, smart infrastructure manufacturers and other organizations "focused on, making a difference in, and selling to state and local government agencies across the United States."Though we know that GovPilot meets all criteria, it does not diminish the thrill of seeing our company included in this year's GovTech 100 list.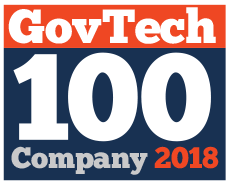 This honor is as much a culmination of the refinements we made to GovPilot's organizational structure and government software (see our article on Jet) in 2017 as it is a bar set for 2018 endeavors.
We thank employees for their hard work, clients for their support and of course, GovTech, for the recognition. Nothing kicks-off a great year like the acknowledgement and endorsement of a respected industry publication.
See Jet and see what's inspiring local governments across the US and Canada to choose GovPilot and causing sites like, GovTech to take notice.