In those quiet hours between work and bed, it's easy to feel as if everything is perfect. The troubles of the day melt away as you eat dinner, chat with your family and settle into the livingroom to watch your favorite TV show. This is as good as it gets—or is it?
How'd it go at city hall today? Did you ever find that missing pet license application? Did Building ever answer your question about the inspection? On a typical day at the office, you're failing to gather relevant information and accomplish important goals. You can do better, with the right tools.
Introducing GovPilot—a government management platform designed to streamline processes, clear communication hurdles and boost productivity, regardless of your department or role. GovPilot is an upgrade from any situation. We look at two common ones below!
Scenario #1: Reliant on Paper-Based Processes
Paper. It's a great material for wiping food off of your face, the preferred canvas for your kid's macaroni art and should probably replace cotton as "the fabric of our lives" (sorry, cotton!). However, if paper forms the basis of your workflow, it is probably the reason why you regularly put in a full day at the office only to achieve half of your objectives.
Reliance on paper-based processes contributes to a cluttered office environment, in which projects are slow to progress. Constituents don't like to wait for answers or approvals, so they call and walk-in unannounced—further distracting you from the task at hand and delaying its completion.
Paper-based processes dampen productivity. Replace them with GovPilot automation. GovPilot's user-friendly interface allows you to build custom automated workflows that mimic your chain of command and order of operations, so that you can keep doing what you're doing, just more efficiently.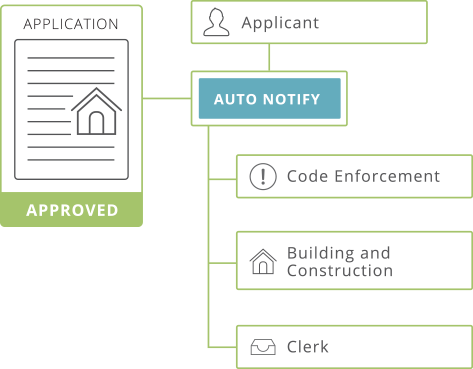 Build custom automated workflows that mimic your chain of command and order of operations.
Automated workflows trigger internal events like task assignment and scheduling as well as external emails to minimize the confusion, questions and communication bottlenecks that prevent you from fulfilling your potential.
It's time to trash paper and transition to GovPilot. You won't find a lower learning curve or a support staff as willing to help you overcome it.
Scenario #2: Comfortable with the Competition
Perhaps you abandoned paper-based processes long ago and are comfortable with a competitor of ours. That's great—your migration to GovPilot will be less of an adjustment!
From Freedom of Information request compliance to vacant property management, GovPilot's product catalog boasts solutions to streamline every government process. Each boasts the flexibility to serve as a stand-alone solution or the foundation for future automation. Implement solutions according to your priorities, at your pace. We'll even create custom images and blurbs to help you publicize upgraded operations at no additional cost.
GovPilot is an upgrade from your current set-up.
No matter your current situation, you can do better. GovPilot can help.