Every so often, an innovation comes along that forces government to reevaluate long-standing rules and regulations.The Model T necessitated tighter traffic laws. The advent of the Internet created a demand for cybersecurity legislation.
Airbnb is the quintessential modern-day example. The popular service has democratized the hotelier experience, presenting a conundrum for government officials relying on processes built upon clear distinctions between individual and enterprise.
GovPilot government management software can support whichever laws local governments choose to implement in response to the rise of Airbnb and the inevitable slew of copycat services. Keep reading to learn how!
Airbnb is Here to Stay
The year is 2007. Roommates, Brian Chesky and Joe Gebbia, cannot afford to pay the rent for their San Francisco, California loft. News that tickets to a design trade show in town have sold-out plants the seeds for the solution to the roommates' financial woes. Chesky and Gebbia turn their living room into a makeshift bed and breakfast; inflating air mattresses and offering homemade breakfast. Three conference attendees become the first Air Bed and Breakfast (later shortened to Airbnb) users.
Since its humble beginnings, Airbnb has grown to a $20 billion worldwide service. Hosts in over 34,000 cities list their properties on the online marketplace. Airbnb's website boasts that hosts can earn as much as $601 a week renting their space to tourists. Guests can experience their chosen destination as a local and enjoy homey touches such as access to the host's kitchen. Hosts and guests alike can write public reviews of their respective experiences.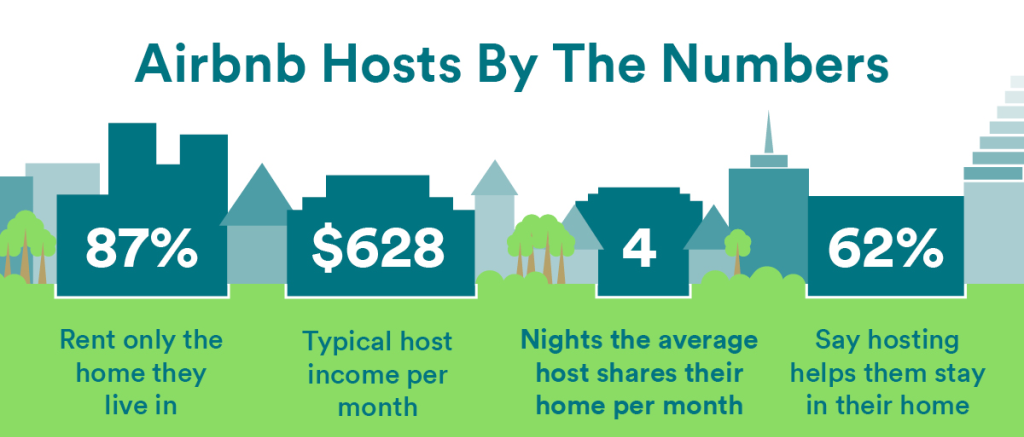 Tripping-Up Government
Airbnb's founders aimed to revolutionize the hospitality industry, but their service's success has rocked an unintended system: local government. By making it possible to run a bed and breakfast out of a rented apartment, Airbnb has blurred the line dividing individual and business⎯a line that serves as the foundation of many local government laws.
Many cities require those renting out temporary lodging to pay a hotel or tourist tax and many maintain laws that further complicate an Airbnb presence. For example, in New York City, owners or tenants cannot legally rent their apartments out for less than 30 days unless they are also living in the property. As places like New York uphold long-standing laws, a growing number of cities are passing legislation in anticipation of Airbnb's continued influence.
Across the Hudson River, Jersey City, New Jersey has adjusted laws to embrace Airbnb. In partnership with the company, the city passed an October 2015 ordinance that applies a 6 percent hotel tax to anyone who rents a home in Jersey City through the website. When announcing the ordinance, Mayor Steve Fulop declared sharing companies, like Airbnb the "future" of the economy, adding, "Airbnb is incredibly popular and growing rapidly, and while some people might have concerns about the sharing economy upending old ways of doing business, the best way to address those concerns is by engaging with these companies, not pretending they do not exist."
At the time of the ordinance's enactment, the tax was estimated to generate $1 million in revenue for Jersey City.
GovPilot Software: An Accommodating Host
GovPilot is committed to helping local government meet the increasingly sophisticated Digital Age standard of efficiency. GovPilot offers over 100 process templates, automated versions of routine government functions. This includes a process template that streamlines the business registration workflow and process templates that automate workflows related to housing. Each module is fully customizable to accommodate every arrangement in between.
For example, a city can customize a process template's digital forms to fit its unique approach to Airbnb-style arrangements. Placed on the city's official website and accessible 24/7 via virtually any device, these forms make it simple for hosts to register their Airbnb accommodations. Thanks to payment processing capabilities, taxes such as Jersey City's can be paid online. Form data is stored in GovPilot's secure, web-based server, which is accessible to all government employees with role-based permission.
Readily available data helps the city track Airbnb hosts, a task that becomes infinitely easier when government opts to illustrate said data on GovPilot's state-of-the-art geographic information system (GIS) map feature.
GovPilot's capabilities go beyond pure management. The software offers government the opportunity to leverage Airbnb and similar services to promote tourism. Government can publish a version of the GIS map on the city's official website that displays Airbnb host locations as well as tourist attractions such as botanic gardens, museums and historic districts.
Airbnb: guests have their pick of places to stay on their trip, hosts have a source of income and with GovPilot, government has the tools to track, manage and benefit from them all!