GovPilot clients, Raleigh, North Carolina and Trenton and Union Township, New Jersey, are quickly becoming fixtures on lists ranking districts that leverage the latest innovations to offer residents a high quality of life (see Money magazine's 2018 list of the 50 Best Places to Live in America and CompTIA's recent index of the top 20 "tech towns"). Our software enables Raleigh, Trenton and Union to better serve constituents and our pricing model enables them to upgrade operations in a way that fits their respective budgets. Here's how we price our applications to help local governments achieve ROI.
How Pricing Works
GovPilot Pricing is straightforward and based on two factors:
The number of modules selected

The government's population
That's it! There are no additional or hidden costs. This makes GovPilot accessible and affordable for local governments of all sizes - from small towns, to large counties, and everything in between! If you haven't already, you can get a fast, automated price quote tailored to your government's size and needs.
Another plus... GovPilot provides onboarding and staff training, as well as unlimited user logins at no extra cost. Talk about ROI.
Unlike competing local government management software, GovPilot offers innovation for every department, and unifies cross departmental data on our platform which eliminates silos, communications bottlenecks, and manual data entry, enabling local governments to accomplish more with less. More efficient, productive, and responsive local government is possible with GovPilot.
We do this through process-specific modules.
What's a module? Glad you asked! A module is an automated version of an everyday function, like pet license issuance. Modules use pre-configured digital forms and workflows to simplify and centralize data collection, streamline communication and automate tasks, such as scheduling.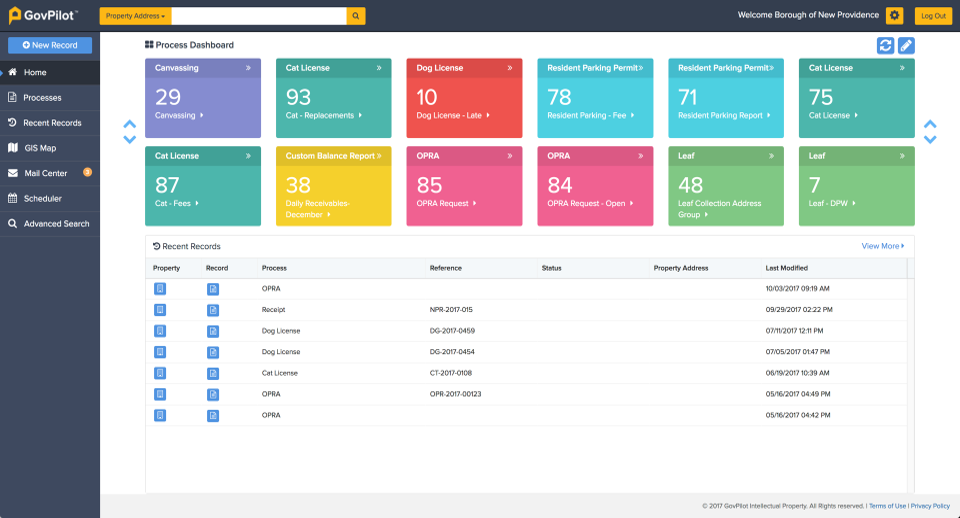 During the onboarding phase, GovPilot clients peruse our extensive product catalog to find the specific solution module or modules that fit their government's unique needs. GovPilot's modules have been developed and refined by working with local government officials from across the country, and are proven-effective. They represent the gold standard in process workflow automation for local government. GovPilot modules are ready to be implemented immediately though they can easily be tailored to meet the needs of your government such as pricing for constituent services like permits, etc.
Each GovPilot module is strong enough to serve as a standalone solution and flexible enough to serve as the foundation for further innovation. GovPilot's platform enables clients to scale at a pace and price point that fits their budget.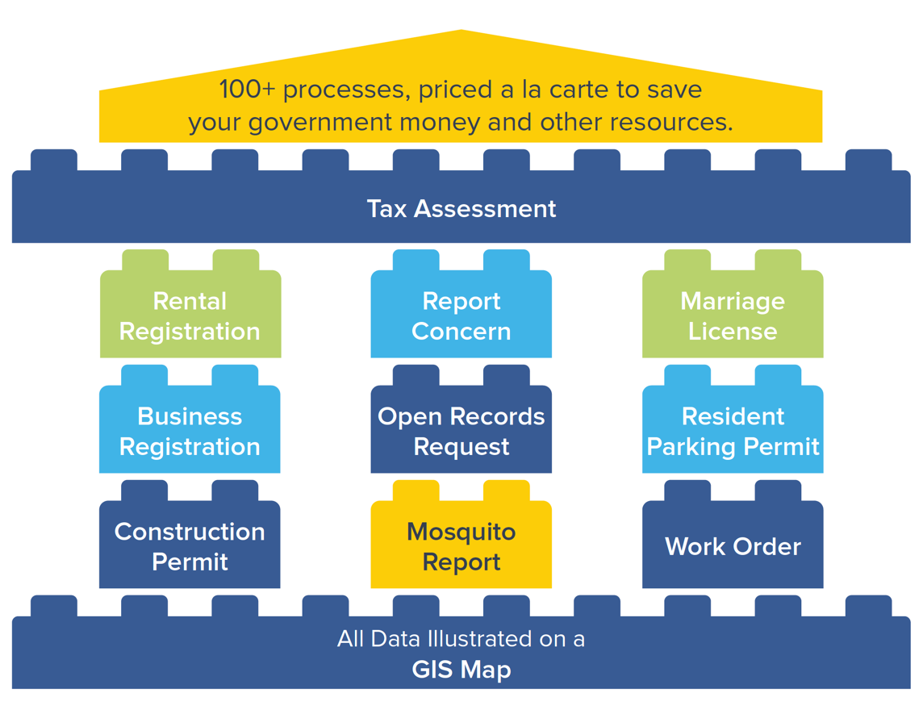 What ROI Looks Like
Union, NJ was happily running GovPilot's Code Enforcement module, CCO Inspection module and several others, when the Township decided to apply GovPilot automation to its management of open public records requests. With GovPilot, the township enjoyed a 90% decrease in open records-related phone calls, among other dramatic improvements in efficiency.
To see more examples of return on investment achieved by GovPilot customers, visit our Case Studies page.
Scaleable solutions that are priced for your specific government's size. No hidden or add on fees. If this sounds like your idea of a great deal, come on down to the bottom of the page and click the button to connect with a member of our Solutions Team!