If you've been reading our blog, you know that local governments across the country use GovPilot's geographic information system (GIS) Map to illustrate and publicize data to effectively engage citizens, promote green initiatives and fight blight, among other things.
Government is not the only industry that relies on GIS mapping to optimize operations. Anthony Ewing's site, EthnicNJ.com, uses GIS technology to find New Jersey's best food.
We sat down with Ewing (who we first met at Propeller Fest) to discuss a few of our favorite things: powerful GIS, great food and our wonderful home state of New Jersey!
GP: The site is great! What inspired you to start EthnicNJ?
AE: New Jersey is one of the most diverse states in the country, with almost every kind of food you can name. The restaurants are just a little harder to find.
I had always made lists of restaurants I wanted to try. I launched EthnicNJ.com in 2010 to share my research and help people find the best food in New Jersey.
EthnicNJ.com is the food guide I've always wanted — the best food in Jersey, organized by cuisine, in one place, on one map. So far, I've mapped 1,120 restaurants serving some 57 different cuisines, from Afghan to Vietnamese.
EthnicNJ is a part-time job, but a full-time passion.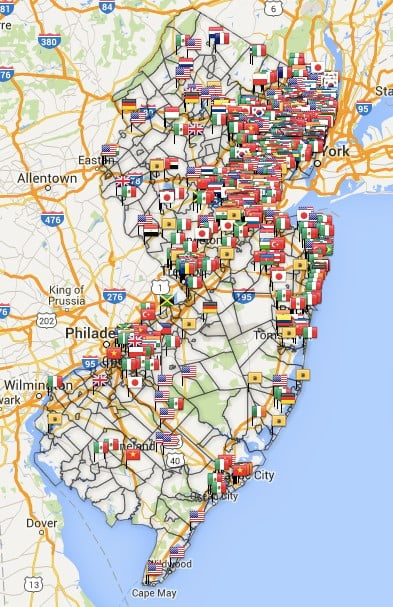 EthnicNJ's famed Food Map.
GP: What is your favorite part of the job?
AE: I get to try New Jersey's best food and visit restaurants all over the state.
GP: Was illustrating data using GIS always a part of your plan?
AE: I love maps and I hate to ask for directions. From the beginning, a food map pinning New Jersey's best restaurants has been the focus of the website. The searchable EthnicNJ Food Map helps people find the best food around them quickly, when they are hungry.
In 2013, I added New Jersey demographic maps.
GP: Interesting! Which data does each map illustrate?
AE: EthnicNJ maps are a resource for anyone looking for the best food in NJ, or a snapshot of New Jersey's diverse communities.
The EthnicNJ Food Map provides a unique, real-time picture of New Jersey's best restaurants, pinned by global cuisine (including "New Jersey" and "American" food).
One in five New Jersey residents was born outside the U.S. Our ancestors hail from every country you can name. EthnicNJ demographic maps display ancestry and countries of birth information for each of New Jersey's 21 counties and for 570 municipalities. By displaying US Census data visually on a color-coded map, you get a much clearer picture of New Jersey's communities. On the Ancestry maps you can search 106 different ancestries reported by New Jerseyans. The Place of Birth Map illustrates the 158 different countries of birth of New Jersey's foreign-born population.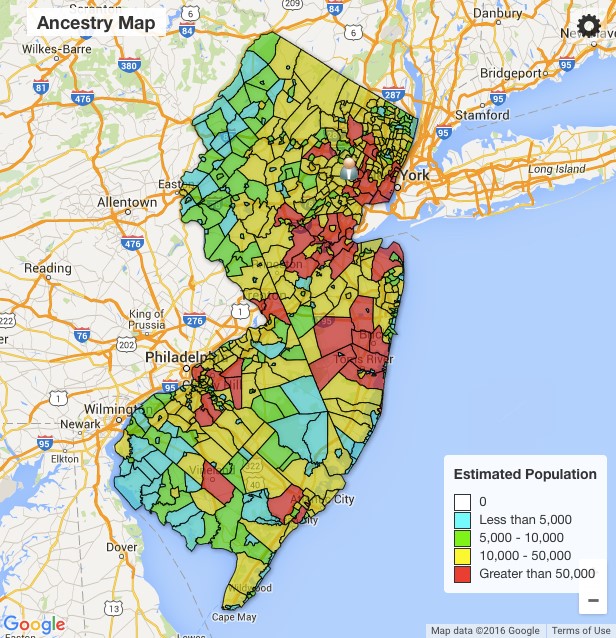 The site's Ancestry Map illustrates NJ's ethnic diversity.
GP: How do you access this data?
AE: I gather the food and restaurant data myself – by driving around the state, visiting restaurants and researching places online.
The demographic data is collected by the United States Census Bureau in its American Community Survey (ACS). The ACS collects data annually, and publishes 5-year population estimates. The most recent data set estimates NJ demographics in 2014. Each EthnicNJ demographic map displays demographic information by county and for individual towns.
GP: How has GIS technology influenced your business model?
AE: EthnicNJ.com has become the go-to website to find the best food in New Jersey because of the EthnicNJ Food Map, which displays restaurants in every one of New Jersey's 21 counties, from Sussex to Cape May. Demographic data added new layers of information and functionality to the map. Mapping functions will become even more important as most users access EthnicNJ via its mobile-friendly site.
GP: Can you tell us your favorite NJ restaurant?
AE: Unfair question! I have favorites in every category, from Cuban to Korean, from Peruvian to pizza. Some of my current favorites are: Chengdu 1 Palace in Greenbrook (Szechuan); El Marino in Dover (Peruvian); El Unico in Union City (Cuban); Hu Tieu Mien Tay in Pleasantville (Vietnamese); Taqueria La Valentina in Long Branch (Mexican); So Kong Dong in Fort Lee (Korean); and Seabra's Marisquiera in Newark (Portuguese).
GP: You must've collected a lot of recipes over the years. What is your favorite thing to cook?
AE: I will try cooking just about anything, with a recipe. I make a mean Spanish paella, excellent Belgian mussels with beer and a very good Italian-American braciole.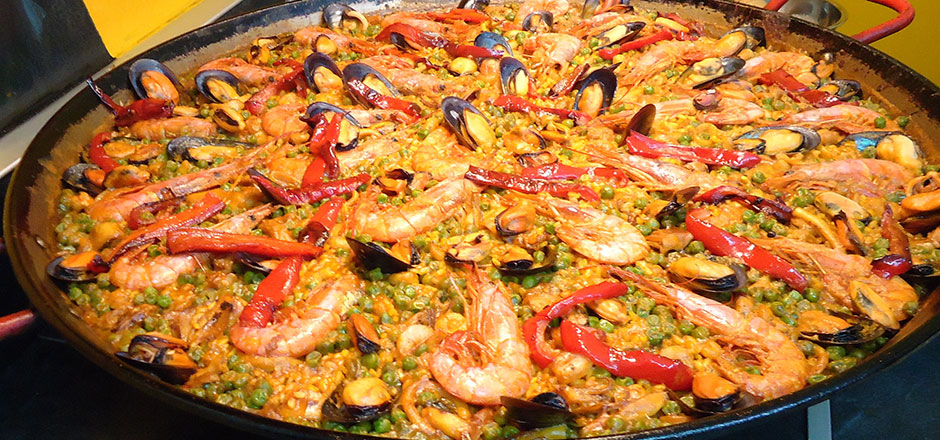 Ewing is currently cooking-up food for thought. EthnicNJ has partnered with Montclair State University's Center for Cooperative Media to produce In the Shadow of Liberty: New Jersey Immigration. With the help of EthnicNJ's demographic maps, the year-long multimedia project explores "the laws, hurdles, indignities and opportunities that immigrants encounter in the Garden State". You can also contribute to In the Shadow of Liberty. Click here to learn how.
GovPilot would like to thank Mr. Ewing for his time.
GIS' versatility never ceases to amaze us. If your job or hobby involves an interesting use of GIS map technology, we'd love to hear about it! Please send your story to alannah@govpilot.com. It may even appear on the GovPilot blog!