Perhaps you're in a state like New Jersey that recently legalized recreational marijuana dispensaries to open in municipalities as of April 21, 2022. Or maybe your local government is in a state that's had legal medical and / or recreational marijuana for a few years, and you've noticed the increase in spending, tax revenue, tourism, etc. in other townships that have dispensaries and want in on the revenue.
If you're considering bringing legalized recreational or medicinal marijuana dispensaries to your community, here's everything you need to know about how to prepare, as well as some tips on what to expect.
Why Choose to Bring Marijuana Dispensaries Into Your Community?
If you're in a state like New Jersey that leaves the choice on whether or not to open marijuana dispensaries in a community up to the municipal government, you've got an important decision to make. While your constituents may swing one way or the other on whether or not they want dispensaries, the honest truth is that bringing recreational marijuana can have a large impact on local tax revenue, boost the local economy, and drive tourism to your neighborhood. Plus, with the right govtech, getting dispensaries up and running can be straightforward and easy to manage and inspect.
Still weighing your options when it comes to legal weed? Learn more in the Pros & Cons of Recreational Marijuana guide.
How Can Your Municipality Bring Marijuana Dispensaries to Your Neighborhood?
With marijuana still being illegal at the federal level, your particular state's laws on medical and recreational dispensaries will dictate the course of action you'll need to take to get cannabis sold in your community.
Here are the important variables to consider as a local government when planning for cannabis dispensaries in your neighborhood:
1. Marijuana Business Registration
As savvy entrepreneurs move to invest in dispensaries in recently legalized states, simple municipal workflows for getting marijuana businesses registered and their applications approved quickly will encourage cannabis entrepreneurs (like any entrepreneur) to choose your neighborhood. Entrepreneurs operating at a local level give a lot of thought to what working with the local government entails, so they'll be more inclined to make money in your neighborhood with better municipal workflows.
2. Regular Health and Code Enforcement Inspections
It goes without saying that legalized marijuana comes along with serious regulations. As a local government, you'll want to have inspectors ready to regularly check in on local marijuana dispensaries to make sure they follow your state's regulatory requirements and take proper measures to keep customers safe.
Pro Tip: Implementing health inspection software and code enforcement software in your municipality can improve business inspection processes for cannabis brands and other business types.
3. Collect Meaningful Data from Marijuana Dispensaries
With recreational and medical marijuana dispensaries becoming mainstream recently, your state and community will need to collect meaningful data on the procurement of marijuana. With cannabis regulation software, data from health inspections, cannabis business registration, and code enforcement inspections (among other insightful data points) will automatically be stored in the cloud with automatic access to relevant government officials.
Leveraging data will allow you to make smarter decisions related to cannabis in your community, gather insight into the types of tax revenue dispensaries will provide, etc.
4. Follow Your State's Marijuana Policies
Marijuana laws vary drastically from state to state. When encouraging recreational or medical cannabis dispensaries to open in your neighborhood, your local government will need to reference the state specific requirements & rules put in place to ensure all legal processes are followed. Be sure to work with connections in your state government to achieve your community's goals while abiding by state regulations, and to review the official legislation and state government websites for more information.
5. Educate Constituents on What's Happening
In bringing a dispensary to your community, you owe both the pro and anti-marijuana crowds an explanation on the timeline in which it will take for marijuana to be on sale in town, details on where the dispensaries will be located, and the rationale behind the decision to bring recreational marijuana to your town (additional tax revenue, social justice, increased tourism, etc.) Be sure to take constituent's feedback seriously and to allow for public discourse to take place on the issue. Local leadership should talk directly to the town and media to inform everyone on what's happening.
How Can Government Tech Help With Marijuana Dispensary Regulations and Collection of Taxes?
Government technology can improve cannabis business registration, expedite public health & safety inspection workflows, and collect invaluable data about the dispensaries and revenue being generated.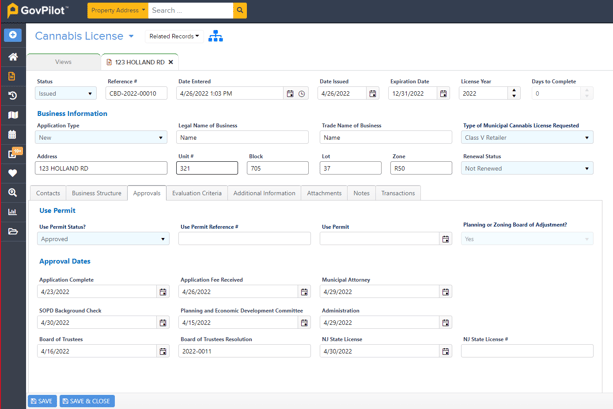 Cannabis regulation software for local governments makes enforcing marijuana regulations is much simpler with automated government modules that:
Collects dispensary data: tax revenue numbers, sales details, and other valuable data points from dispensaries within your community will be stored in the cloud, automatically accessible to relevant officials, and integrated into meaningful financial dashboards in real time.
Allows for mobile inspections: When your local health inspector is assessing a marijuana dispensary (or any business, for that matter) a

mobile inspection application

allows for inspectors to take notes / fill in documents straight on their phone that are automatically stored in the cloud.


Digital marijuana business registration and permit applications: entrepreneurs are pouring millions into launching dispensaries for medical and recreational use. Encourage them to invest these millions in your community by making

business registration

and

permitting

easily accessible from your website and the approval process completely digital. Effective cannabis regulation software enables license applicants to attach files and supporting documentation for review by the municipal Cannabis Committee. A straightforward, end-to-end digital registration and permit approval processes will make it easier for businesses to get approval and licensed, making it more enticing for entrepreneurs to choose your community over towns with slower-moving bureaucratic workflows.
Marijuana Dispensary Regulation at a Local Level - In Conclusion
Recreational marijuana legalization is a nuanced but exciting development for local communities that are ready to open dispensaries. You'll be able to encourage local economic growth, use increased tax revenue to address local challenges, and get cannabis in the hands of community members and tourists that enjoy and / or medically rely on marijuana.
The key to the successful onboarding of cannabis dispensaries is proper and efficient government workflows. Automate tasks like business registration and inspection, and collect data to be utilized for making important future decisions related to marijuana and other local expenditures. To learn about how government management software can help, book a free consultation.
Opening Recreational & Medical Marijuana Dispensaries in Your Town - FAQs
How Does the NJ Recreational Marijuana Law Put the Power in the Local Government?
New Jersey's CREAMM Act officially legalized recreational marijuana in the state. In a new precedent, the state left the decision of whether or not to allow marijuana dispensaries in a community up to the local government. You can learn more about the specifics around the legal marijuana law and what it means for municipalities here:
How Should a Community Prepare for a Marijuana Dispensary Opening in Their Neighborhood?
Like any government process, the key to success in managing dispensaries in your municipality is to ensure you have top tier workflows in place. Consider the following for working with marijuana businesses near you:
Marijuana business registration: there are more regulations than most industries in the marijuana sector. Local governments need to have registration in place for dispensaries, and factor the specific state regulations into the customizable inspection platform.
Marijuana business permits & licenses: when it comes to constructing the dispensaries, approving health requirements, etc., you'll need

construction permit and licensing

processes that are straightforward to get the businesses officially approved.
Health inspections: dispensaries offer highly regulated substances that are consumed by constituents. You owe it to community members to be on top of health inspections.
Recommended workflows: Business permitting, licensing, and registration should be made available on your government website. Inspections should be completed via a straightforward mobile inspection app to improve efficiency and store inspector's findings in the cloud.
Should My Local Government Allow Cannabis Dispensaries to Open Up Shop?
There are a lot of arguments for and against marijuana, and you undoubtedly have constituents that fall on both sides of the aisle. You'll need to weigh the pros and cons before offering dispensaries to move into your neighborhood. Pros include increased tax revenue, local economic development, and access to medicinal and recreational marijuana for those that want / need it. Cons include more people driving under the influence, more people addicted, and potentially angry constituents who would prefer for pot to stay illegal.
Consider public opinion, and the impact on your community before coming to a decision.
For more helpful local government resources, read on: