We've covered how the GovAlert mobile app integration, digital form, workflow automation and geographic information system (GIS) mapping technology that make-up GovPilot's Report a Concern process can and have been successfully applied to mosquito-borne illness prevention initiatives. GovPilot's app compatibility, digital form, automated workflow and GIS map also form the basis of our Pet Licensing process — a tool that holds new value in light of current events.
This week, we'd like to raise reader awareness about lepto — an increasingly common threat to the health of dogs and their owners. We describe how lepto is contracted, diagnosed and treated before explaining how the disease's spread can be prevented using GovPilot's Pet Licensing Process.
The Lepto Epidemic
Pet owners are on high alert after a number of dogs in states as far apart as Connecticut and Arizona have been diagnosed with leptospirosis, or lepto. Spread through contact with water or animal urine containing leptospirosis bacteria, the disease causes fever, lethargy and fluid retention. Though lepto is treatable with antibiotics, many pet owners unfamiliar with the symptoms seek veterinary attention too late. At least three dogs died and two others were sickened by the disease in northern New Jersey alone.
Experts attribute the recent rise of lepto infection rates to owners spending more time outside with their dogs, enjoying last winter's relatively mild weather.They recommend keeping a close eye on dogs at dog parks, but maintain that vaccinating canines against lepto is the best form of prevention.
Prevention is key, especially considering that canines are not the only ones at risk of contracting lepto. A zoonotic disease, lepto also threatens the lives of humans. In February, a Bronx man died after presumably contracting lepto via contact with rat urine. At least two other residents at his allegedly rodent infested apartment complex also fell ill.
GovPilot Can Help
An effective lepto prevention plan incorporates health policy reform, public outreach/education and the tracking/analysis of infection rates. GovPilot's Pet Licensing process boasts a number of features that help local government perform all life-saving functions with unparalleled ease.
Kelly Fitch, member of Easton, Connecticut's Animal Control Department, blames the veterinary community's dismissal of the lepto vaccine for the recent spate of canine infection and fatalities in her region.
"We hadn't seen cases of lepto in years, so drug companies stopped putting the vaccine in the melting pot of medicine people take their dogs to get in their yearly vaccine," she explains.
Administrations looking to reverse the trend can customize GovPilot's attachment capable online pet license application form to require proof of lepto vaccination. Workflow automation ensures that submitted applications are reviewed by the appropriate personnel, with minimal time lag between processing steps. Applicant responses contribute to the formation of a comprehensive database of the vaccination status of your community's canines.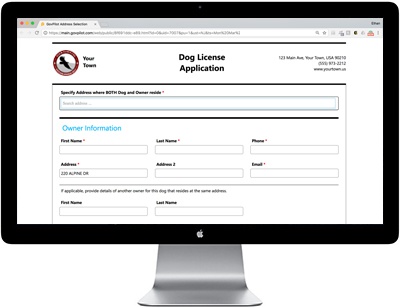 In addition to mandating vaccination, you can recruit constituents to help in the war against lepto. The free GovAlert mobile app allows concerned pet owners and other residents to craft detailed reports of rodent infestation and other lepto breeding grounds in the time it takes to send a text message. In just one tap, the concern is routed to your Animal Control department. Real time, crowdsourced reports join applicant information in the aforementioned database.
Illustrate the residences of the infected on GovPilot's GIS map to track lepto's spread and draw groundbreaking conclusions. Publish a map on your county or municipal website that displays areas for pet owners to avoid. Highlight outstanding districts and notify residents of risks with Mail Merge enabled ease.
Mobile reporting. Form customization. Detailed records. GIS mapping. Advanced communication methods. GovPilot's Pet Licensing platform includes all of the tools you need to effectively combat the lepto epidemic.